Filters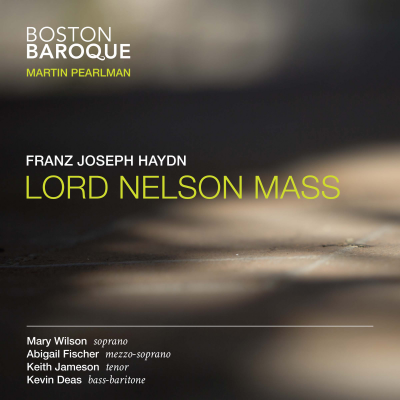 Inlay available for download
Booklet available for download
Missa in Angustiis ('Lord Nelson Mass') - Kyrie

Composer(s)

Franz Joseph Haydn

Artist(s)

Martin Pearlman

Keith Jameson - tenor, Kevin Deas - bass baritone, Mary Wilson - soprano, Abigail Fischer - mezzo-soprano

Boston Baroque

Missa in Angustiis ('Lord Nelson Mass') - Kyrie

$2.30

Missa in Angustiis ('Lord Nelson Mass') - Gloria in excelsis Deo

Composer(s)

Franz Joseph Haydn

Artist(s)

Martin Pearlman

Keith Jameson - tenor, Kevin Deas - bass baritone, Mary Wilson - soprano, Abigail Fischer - mezzo-soprano

Boston Baroque

Missa in Angustiis ('Lord Nelson Mass') - Gloria in excelsis Deo

$2.30

Missa in Angustiis ('Lord Nelson Mass') - Qui tollis peccata mundi

Composer(s)

Franz Joseph Haydn

Artist(s)

Martin Pearlman

Keith Jameson - tenor, Kevin Deas - bass baritone, Mary Wilson - soprano, Abigail Fischer - mezzo-soprano

Boston Baroque

Missa in Angustiis ('Lord Nelson Mass') - Qui tollis peccata mundi

$2.30

Missa in Angustiis ('Lord Nelson Mass') - Quoniam tu solus sanctus

Composer(s)

Franz Joseph Haydn

Artist(s)

Martin Pearlman

Keith Jameson - tenor, Kevin Deas - bass baritone, Mary Wilson - soprano, Abigail Fischer - mezzo-soprano

Boston Baroque

Missa in Angustiis ('Lord Nelson Mass') - Quoniam tu solus sanctus

$2.30

Missa in Angustiis ('Lord Nelson Mass') - Credo in unum Deum

Composer(s)

Franz Joseph Haydn

Artist(s)

Martin Pearlman

Keith Jameson - tenor, Kevin Deas - bass baritone, Mary Wilson - soprano, Abigail Fischer - mezzo-soprano

Boston Baroque

Missa in Angustiis ('Lord Nelson Mass') - Credo in unum Deum

$2.30

Missa in Angustiis ('Lord Nelson Mass') - Et incarnatus est de Spiritu Sancto

Composer(s)

Franz Joseph Haydn

Artist(s)

Martin Pearlman

Keith Jameson - tenor, Kevin Deas - bass baritone, Mary Wilson - soprano, Abigail Fischer - mezzo-soprano

Boston Baroque

Missa in Angustiis ('Lord Nelson Mass') - Et incarnatus est de Spiritu Sancto

$2.30

Missa in Angustiis ('Lord Nelson Mass') - Et resurrexit

Composer(s)

Franz Joseph Haydn

Artist(s)

Martin Pearlman

Keith Jameson - tenor, Kevin Deas - bass baritone, Mary Wilson - soprano, Abigail Fischer - mezzo-soprano

Boston Baroque

Missa in Angustiis ('Lord Nelson Mass') - Et resurrexit

$2.30

Missa in Angustiis ('Lord Nelson Mass') - Sanctus

Composer(s)

Franz Joseph Haydn

Artist(s)

Martin Pearlman

Keith Jameson - tenor, Kevin Deas - bass baritone, Mary Wilson - soprano, Abigail Fischer - mezzo-soprano

Boston Baroque

Missa in Angustiis ('Lord Nelson Mass') - Sanctus

$2.30

Missa in Angustiis ('Lord Nelson Mass') - Benedictus

Composer(s)

Franz Joseph Haydn

Artist(s)

Martin Pearlman

Keith Jameson - tenor, Kevin Deas - bass baritone, Mary Wilson - soprano, Abigail Fischer - mezzo-soprano

Boston Baroque

Missa in Angustiis ('Lord Nelson Mass') - Benedictus

$2.30

Missa in Angustiis ('Lord Nelson Mass') - Agnus Dei

Composer(s)

Franz Joseph Haydn

Artist(s)

Martin Pearlman

Keith Jameson - tenor, Kevin Deas - bass baritone, Mary Wilson - soprano, Abigail Fischer - mezzo-soprano

Boston Baroque

Missa in Angustiis ('Lord Nelson Mass') - Agnus Dei

$2.30

Missa in Angustiis ('Lord Nelson Mass') - Donna nobis pacem

Composer(s)

Franz Joseph Haydn

Artist(s)

Martin Pearlman

Keith Jameson - tenor, Kevin Deas - bass baritone, Mary Wilson - soprano, Abigail Fischer - mezzo-soprano

Boston Baroque

Missa in Angustiis ('Lord Nelson Mass') - Donna nobis pacem

$2.30

Symphony No. 102 in B-flat Major - Largo - Vivace

Composer(s)

Franz Joseph Haydn

Artist(s)

Martin Pearlman

Boston Baroque

Symphony No. 102 in B-flat Major - Largo - Vivace

$3.40

Symphony No. 102 in B-flat Major - Adagio

Composer(s)

Franz Joseph Haydn

Artist(s)

Martin Pearlman

Boston Baroque

Symphony No. 102 in B-flat Major - Adagio

$2.30

Symphony No. 102 in B-flat Major - Menuetto: Allegro - Trio

Composer(s)

Franz Joseph Haydn

Artist(s)

Martin Pearlman

Boston Baroque

Symphony No. 102 in B-flat Major - Menuetto: Allegro - Trio

$2.30

Symphony No. 102 in B-flat Major - Finale: Presto

Composer(s)

Franz Joseph Haydn

Artist(s)

Martin Pearlman

Boston Baroque

Symphony No. 102 in B-flat Major - Finale: Presto

$2.30
Total running time: 62 minutes.
Album information

Released to coincide with Boston Baroque's 40th Anniversary Season, Haydn: Lord Nelson Mass is the anticipated follow up to Haydn: The Creation which launched the orchestra's partnership with Linn in 2012.

The ensemble's concerts of the Lord Nelson Mass have received rave reviews, with the Boston Globe praising the ensemble's "magnificent performance."  The distinctive and memorable Lord Nelson Mass, arguably Haydn's greatest single composition, stirs powerful emotions, ranging from solemnity and torment to joyous celebration.

Boston Baroque's performance follows the leaner, original orchestration of Haydn's manuscript including the original vocal lines (made simpler in a later edition).

Creation soloists Keith Jameson tenor and Kevin Deas bass-baritone return for this recording, having won acclaim for their previous performances. They are joined by Mary Wilson soprano and Abigail Fischer mezzo-soprano.

The Mass is partnered on this recording by Symphony No. 102, the most powerful, brilliant and interesting of Haydn's London symphonies, giving centre stage to the ensemble's talented musicians.
Related Artists
Reviews