Filters
Monteverdi: Il ritorno d'Ulisse in patria
Monteverdi: Il ritorno d'Ulisse in patria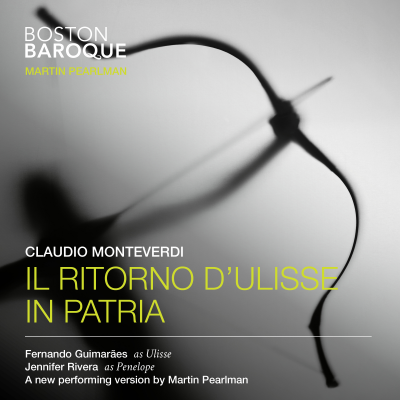 Inlay available for download
Booklet available for download
Il ritorno d'Ulisse in patria: Prologue

Composer(s)

Claudio Monteverdi

Artist(s)

Martin Pearlman

Boston Baroque

Il ritorno d'Ulisse in patria: Prologue

$3.40

Il ritorno d'Ulisse in patria, Act I, Scene 1: Di misera regina

Composer(s)

Claudio Monteverdi

Artist(s)

Martin Pearlman

Jennifer Rivera; Krista River

Boston Baroque

Il ritorno d'Ulisse in patria, Act I, Scene 1: Di misera regina

$3.40

Il ritorno d'Ulisse in patria, Act I, Scene 2: Duri e penosi

Composer(s)

Claudio Monteverdi

Artist(s)

Martin Pearlman

Abigail Nims; Daniel Shirley

Boston Baroque

Il ritorno d'Ulisse in patria, Act I, Scene 2: Duri e penosi

$3.40

Il ritorno d'Ulisse in patria, Act I, Scene 4: Sinfonia (the sleeping Ulisse carried on shore)

Composer(s)

Claudio Monteverdi

Artist(s)

Martin Pearlman

Boston Baroque

Il ritorno d'Ulisse in patria, Act I, Scene 4: Sinfonia (the sleeping Ulisse carried on shore)

$2.30

Il ritorno d'Ulisse in patria, Act I, Scene 5: Superbo e l'huom

Composer(s)

Claudio Monteverdi

Artist(s)

Martin Pearlman

Joao Fernandes; Owen McIntosh

Boston Baroque

Il ritorno d'Ulisse in patria, Act I, Scene 5: Superbo e l'huom

$2.30

Il ritorno d'Ulisse in patria, Act I, Scene 6: In questo basso mondo

Composer(s)

Claudio Monteverdi

Artist(s)

Martin Pearlman

Joao Fernandes; Jonas Budris; Christopher Lowrey; Ulysses Thomas

Boston Baroque

Il ritorno d'Ulisse in patria, Act I, Scene 6: In questo basso mondo

$2.30

Il ritorno d'Ulisse in patria, Act I, Scene 7: Dormo ancora

Composer(s)

Claudio Monteverdi

Artist(s)

Martin Pearlman

Fernando Guimaraes

Boston Baroque

Il ritorno d'Ulisse in patria, Act I, Scene 7: Dormo ancora

$2.30

Il ritorno d'Ulisse in patria, Act I, Scene 8: Cara e lieta gioventu

Composer(s)

Claudio Monteverdi

Artist(s)

Martin Pearlman

Fernando Guimaraes; Leah Wool

Boston Baroque

Il ritorno d'Ulisse in patria, Act I, Scene 8: Cara e lieta gioventu

$4.60

Il ritorno d'Ulisse in patria, Act I, Scene 9: Tu d'Aretusa al fonte

Composer(s)

Claudio Monteverdi

Artist(s)

Martin Pearlman

Fernando Guimaraes; Leah Wool

Boston Baroque

Il ritorno d'Ulisse in patria, Act I, Scene 9: Tu d'Aretusa al fonte

$2.30

Il ritorno d'Ulisse in patria, Act I, Scene 10: Donata un giorno

Composer(s)

Claudio Monteverdi

Artist(s)

Martin Pearlman

Jennifer Rivera; Abigail Nims

Boston Baroque

Il ritorno d'Ulisse in patria, Act I, Scene 10: Donata un giorno

$3.40

Il ritorno d'Ulisse in patria, Act I, Scene 11: Oh come mal si salva

Composer(s)

Claudio Monteverdi

Artist(s)

Martin Pearlman

Daniel Auchincloss

Boston Baroque

Il ritorno d'Ulisse in patria, Act I, Scene 11: Oh come mal si salva

$2.30

Il ritorno d'Ulisse in patria, Act I, Scene 12: Pastor d'armenti puo

Composer(s)

Claudio Monteverdi

Artist(s)

Martin Pearlman

Daniel Auchincloss; Marc Molomot

Boston Baroque

Il ritorno d'Ulisse in patria, Act I, Scene 12: Pastor d'armenti puo

$2.30

Il ritorno d'Ulisse in patria, Act I, Scene 13: Ulisse generoso!

Composer(s)

Claudio Monteverdi

Artist(s)

Martin Pearlman

Fernando Guimaraes; Daniel Auchincloss

Boston Baroque

Il ritorno d'Ulisse in patria, Act I, Scene 13: Ulisse generoso!

$2.30

Il ritorno d'Ulisse in patria, Act II, Scene 1: Lieto cammino

Composer(s)

Claudio Monteverdi

Artist(s)

Martin Pearlman

Leah Wool; Aaron Sheehan

Boston Baroque

Il ritorno d'Ulisse in patria, Act II, Scene 1: Lieto cammino

$2.30

Il ritorno d'Ulisse in patria, Act II, Scene 2: O gran figlio d'Ulisse

Composer(s)

Claudio Monteverdi

Artist(s)

Martin Pearlman

Fernando Guimaraes; Daniel Auchincloss; Aaron Sheehan

Boston Baroque

Il ritorno d'Ulisse in patria, Act II, Scene 2: O gran figlio d'Ulisse

$2.30

Il ritorno d'Ulisse in patria, Act II, Scene 3: Che veggio, ohime, che miro?

Composer(s)

Claudio Monteverdi

Artist(s)

Martin Pearlman

Fernando Guimaraes; Aaron Sheehan

Boston Baroque

Il ritorno d'Ulisse in patria, Act II, Scene 3: Che veggio, ohime, che miro?

$3.40

Il ritorno d'Ulisse in patria, Act II, Scene 4: Eurimaco, la donna e insomma

Composer(s)

Claudio Monteverdi

Artist(s)

Martin Pearlman

Abigail Nims; Daniel Shirley

Boston Baroque

Il ritorno d'Ulisse in patria, Act II, Scene 4: Eurimaco, la donna e insomma

$2.30

Il ritorno d'Ulisse in patria, Act II, Scene 5: Sono l'altre regine

Composer(s)

Claudio Monteverdi

Artist(s)

Martin Pearlman

Ulysses Thomas; Owen McIntosh; Jonas Budris; Jennifer Rivera

Boston Baroque

Il ritorno d'Ulisse in patria, Act II, Scene 5: Sono l'altre regine

$3.40

Il ritorno d'Ulisse in patria, Act II, Scene 7: Apportator d'alte novelle

Composer(s)

Claudio Monteverdi

Artist(s)

Martin Pearlman

Jennifer Rivera; Daniel Auchincloss

Boston Baroque

Il ritorno d'Ulisse in patria, Act II, Scene 7: Apportator d'alte novelle

$2.30

Il ritorno d'Ulisse in patria, Act II, Scene 8: Compagni, udiste

Composer(s)

Claudio Monteverdi

Artist(s)

Martin Pearlman

Ulysses Thomas; Owen McIntosh; Jonas Budris; Daniel Shirley

Boston Baroque

Il ritorno d'Ulisse in patria, Act II, Scene 8: Compagni, udiste

$2.30

Il ritorno d'Ulisse in patria, Act II, Scene 9: Perir non puo

Composer(s)

Claudio Monteverdi

Artist(s)

Martin Pearlman

Fernando Guimaraes; Leah Wool

Boston Baroque

Il ritorno d'Ulisse in patria, Act II, Scene 9: Perir non puo

$2.30

Il ritorno d'Ulisse in patria, Act II, Scene 10: Io vidi, o pellegrin

Composer(s)

Claudio Monteverdi

Artist(s)

Martin Pearlman

Fernando Guimaraes; Daniel Auchincloss

Boston Baroque

Il ritorno d'Ulisse in patria, Act II, Scene 10: Io vidi, o pellegrin

$2.30

Il ritorno d'Ulisse in patria, Act II, Scene 11: Del mio lungo viaggio

Composer(s)

Claudio Monteverdi

Artist(s)

Martin Pearlman

Aaron Sheehan; Jennifer Rivera

Boston Baroque

Il ritorno d'Ulisse in patria, Act II, Scene 11: Del mio lungo viaggio

$2.30

Il ritorno d'Ulisse in patria, Act II, Scene 12: Sempre villano Eumete

Composer(s)

Claudio Monteverdi

Artist(s)

Martin Pearlman

Ulysses Thomas; Daniel Auchincloss; Marc Molomot; Fernando Guimaraes; Aaron Sheehan

Boston Baroque

Il ritorno d'Ulisse in patria, Act II, Scene 12: Sempre villano Eumete

$2.30

Il ritorno d'Ulisse in patria, Act II, Scene 12: Tu vincitor

Composer(s)

Claudio Monteverdi

Artist(s)

Martin Pearlman

Ulysses Thomas; Jennifer Rivera; Owen McIntosh; Jonas Budris; Aaron Sheehan

Boston Baroque

Il ritorno d'Ulisse in patria, Act II, Scene 12: Tu vincitor

$3.40

Il ritorno d'Ulisse in patria, Act II, Scene 12: Ecco l'arco d'Ulisse

Composer(s)

Claudio Monteverdi

Artist(s)

Martin Pearlman

Ulysses Thomas; Jennifer Rivera; Owen McIntosh; Jonas Budris; Fernando Guimaraes

Boston Baroque

Il ritorno d'Ulisse in patria, Act II, Scene 12: Ecco l'arco d'Ulisse

$3.40

Il ritorno d'Ulisse in patria, Act III, Scene 1: O dolor, o martir

Composer(s)

Claudio Monteverdi

Artist(s)

Martin Pearlman

Marc Molomot

Boston Baroque

Il ritorno d'Ulisse in patria, Act III, Scene 1: O dolor, o martir

$2.30

Il ritorno d'Ulisse in patria, Act III, Scene 3: E quai nuovi rumori

Composer(s)

Claudio Monteverdi

Artist(s)

Martin Pearlman

Jennifer Rivera; Abigail Nims

Boston Baroque

Il ritorno d'Ulisse in patria, Act III, Scene 3: E quai nuovi rumori

$2.30

Il ritorno d'Ulisse in patria, Act III, Scene 4: Forza d'occulto affetto

Composer(s)

Claudio Monteverdi

Artist(s)

Martin Pearlman

Jennifer Rivera; Daniel Auchincloss

Boston Baroque

Il ritorno d'Ulisse in patria, Act III, Scene 4: Forza d'occulto affetto

$2.30

Il ritorno d'Ulisse in patria, Act III, Scene 5: E saggio Eumete

Composer(s)

Claudio Monteverdi

Artist(s)

Martin Pearlman

Jennifer Rivera; Aaron Sheehan; Daniel Auchincloss

Boston Baroque

Il ritorno d'Ulisse in patria, Act III, Scene 5: E saggio Eumete

$2.30

Il ritorno d'Ulisse in patria, Act III, Scene 6: Fiamma e l'ira, o gran Dea

Composer(s)

Claudio Monteverdi

Artist(s)

Martin Pearlman

Leah Wool; Sonja DuToit Tengblad

Boston Baroque

Il ritorno d'Ulisse in patria, Act III, Scene 6: Fiamma e l'ira, o gran Dea

$2.30

Il ritorno d'Ulisse in patria, Act III, Scene 7: Gran Giove

Composer(s)

Claudio Monteverdi

Artist(s)

Martin Pearlman

Sonja DuToit Tengblad; Owen McIntosh; Joao Fernandes; Sara Heaton; Abigail Nims; Marc Molomot; Daniel Shirley; Christopher Lowrey; Jonas Budris; Daniel Auchincloss; Ulysses Thomas; Leah Wool

Boston Baroque

Il ritorno d'Ulisse in patria, Act III, Scene 7: Gran Giove

$2.30

Il ritorno d'Ulisse in patria, Act III, Scene 8: Ericlea, che vuoi far

Composer(s)

Claudio Monteverdi

Artist(s)

Martin Pearlman

Krista River

Boston Baroque

Il ritorno d'Ulisse in patria, Act III, Scene 8: Ericlea, che vuoi far

$2.30

Il ritorno d'Ulisse in patria, Act III, Scene 9: Ogni nostra ragion

Composer(s)

Claudio Monteverdi

Artist(s)

Martin Pearlman

Jennifer Rivera; Aaron Sheehan; Daniel Auchincloss

Boston Baroque

Il ritorno d'Ulisse in patria, Act III, Scene 9: Ogni nostra ragion

$2.30

Il ritorno d'Ulisse in patria, Act III, Scene 10: O delle mie fatiche

Composer(s)

Claudio Monteverdi

Artist(s)

Martin Pearlman

Fernando Guimaraes; Jennifer Rivera; Krista River

Boston Baroque

Il ritorno d'Ulisse in patria, Act III, Scene 10: O delle mie fatiche

$3.40
Total running time: 176 minutes.

Album information

Il ritorno d'Ulisse is unquestionably one of the three pillars that place Monteverdi among the greatest of opera composers; this recording marks the premiere of a new performing version by Martin Pearlman.

Portuguese tenor and Baroque specialist Fernando Guimarães stars in the title role, alongside the internationally renowned mezzo-soprano Jennifer Rivera as his loving wife Penelope in this GRAMMY-nominated recording. Il ritorno d'Ulisse was a relatively recent discovery, but following its authentication in the 1950s and revivals in Vienna and Glyndebourne, the opera has enjoyed new found popularity. Martin Pearlman's new performing version benefits from the same attention to detail that has ensured his reputation as a leading champion of period performance. His highly considered approach to all aspects of the score and performance ensure this version is true to Monteverdi's original vision. With a libretto drawing from Homer's Odyssey, Il ritorno d'Ulisse is a riveting human drama with an enviable cast.

You can download a free talk by Martin Pearlman discussing his new performing version here. 
Related Artists
Reviews