Filters
Britten & Elgar: Sea Interludes, Violin Concerto
Britten & Elgar: Sea Interludes, Violin Concerto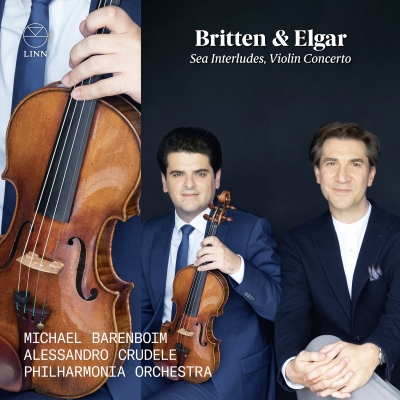 Inlay available for download
Booklet available for download
Four Sea Interludes from Peter Grimes, Op. 33a: I. Dawn

Composer(s)

Benjamin Britten

Artist(s)

Alessandro Crudele

Philharmonia Orchestra

Four Sea Interludes from Peter Grimes, Op. 33a: I. Dawn

$2.30

Four Sea Interludes from Peter Grimes, Op. 33a: II. Sunday Morning

Composer(s)

Benjamin Britten

Artist(s)

Alessandro Crudele

Philharmonia Orchestra

Four Sea Interludes from Peter Grimes, Op. 33a: II. Sunday Morning

$2.30

Four Sea Interludes from Peter Grimes, Op. 33a: III. Moonlight

Composer(s)

Benjamin Britten

Artist(s)

Alessandro Crudele

Philharmonia Orchestra

Four Sea Interludes from Peter Grimes, Op. 33a: III. Moonlight

$2.30

Four Sea Interludes from Peter Grimes, Op. 33a: IV. Storm

Composer(s)

Benjamin Britten

Artist(s)

Alessandro Crudele

Philharmonia Orchestra

Four Sea Interludes from Peter Grimes, Op. 33a: IV. Storm

$2.30

Violin Concerto in B Minor, Op. 61: I. Allegro

Artist(s)

Michael Barenboim

Alessandro Crudele

Philharmonia Orchestra

Violin Concerto in B Minor, Op. 61: I. Allegro

$5.75

Violin Concerto in B Minor, Op. 61: II. Andante

Artist(s)

Michael Barenboim

Alessandro Crudele

Philharmonia Orchestra

Violin Concerto in B Minor, Op. 61: II. Andante

$4.60

Violin Concerto in B Minor, Op. 61: III. Allegro molto

Artist(s)

Michael Barenboim

Alessandro Crudele

Philharmonia Orchestra

Violin Concerto in B Minor, Op. 61: III. Allegro molto

$7.00
Total running time: 67 minutes.
Album information

After an acclaimed Respighi recording, Alessandro Crudele makes his second appearance on Linn, this time teaming up with violinist Michael Barenboim who makes his Linn debut, and the Philharmonia Orchestra.

The programme offers a glimpse of two contrasting, yet defining figures of British music. Depicting an outsider within an isolated community – very much reflecting Britten's situation at the time of its composition – Peter Grimes remains his most performed opera. Following its success, Britten extracted four 'interludes': brilliantly orchestrated portraits of the North Sea, performed here with Crudele's distinctive mastery of orchestral colours. The self-taught Elgar was somewhat reluctant to compose a concerto for violin, but after meeting the great Fritz Kreisler he came to create 'an immortal work', the Austrian violinist's own words. Benefiting from recent live performances, the execution brings all the facets of the work to light and successfully blends the solo part with the orchestral accompaniment in a show of perfect symbiosis.
Related Artists