Filters
Byrd: Complete Consort Music
Byrd: Complete Consort Music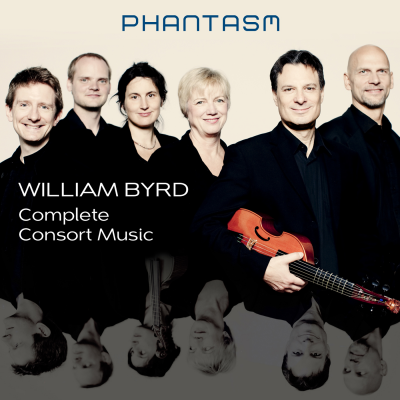 Inlay available for download
Booklet available for download
Fantasia a3 (III)

Composer(s)

William Byrd (c1540-1623)

Artist(s)

Laurence Dreyfus

Phantasm

Fantasia a3 (III)

$2.30

Browning a5 (The leaves be green)

Composer(s)

William Byrd (c1540-1623)

Artist(s)

Laurence Dreyfus

Phantasm

Browning a5 (The leaves be green)

$2.30

Te lucis a4

Composer(s)

William Byrd (c1540-1623)

Artist(s)

Laurence Dreyfus

Phantasm

Te lucis a4

$2.30

In nomine a5 (III)

Composer(s)

William Byrd (c1540-1623)

Artist(s)

Laurence Dreyfus

Phantasm

In nomine a5 (III)

$2.30

Christe redemptor omnium a4

Composer(s)

William Byrd (c1540-1623)

Artist(s)

Laurence Dreyfus

Phantasm

Christe redemptor omnium a4

$2.30

In nomine a5 (IV)

Composer(s)

William Byrd (c1540-1623)

Artist(s)

Laurence Dreyfus

Phantasm

In nomine a5 (IV)

$2.30

Fantasia a4 (III)

Composer(s)

William Byrd (c1540-1623)

Artist(s)

Laurence Dreyfus

Phantasm

Fantasia a4 (III)

$2.30

Sermone Blando a3

Composer(s)

William Byrd (c1540-1623)

Artist(s)

Laurence Dreyfus

Phantasm

Sermone Blando a3

$2.30

Fantasia a5 ('Two parts in one in the 4th above')

Composer(s)

William Byrd (c1540-1623)

Artist(s)

Laurence Dreyfus

Phantasm

Fantasia a5 ('Two parts in one in the 4th above')

$2.30

Fantasia a6 (I) (A song of two basses)

Composer(s)

William Byrd (c1540-1623)

Artist(s)

Laurence Dreyfus

Phantasm

Fantasia a6 (I) (A song of two basses)

$2.30

Fantasia a3 (I)

Composer(s)

William Byrd (c1540-1623)

Artist(s)

Laurence Dreyfus

Phantasm

Fantasia a3 (I)

$2.30

Christe qui Lux es a4 (I)

Composer(s)

William Byrd (c1540-1623)

Artist(s)

Laurence Dreyfus

Phantasm

Christe qui Lux es a4 (I)

$2.30

In nomine a5 (II) ('on the sharp')

Composer(s)

William Byrd (c1540-1623)

Artist(s)

Laurence Dreyfus

Phantasm

In nomine a5 (II) ('on the sharp')

$2.30

Christe qui Lux es a4 (II)

Composer(s)

William Byrd (c1540-1623)

Artist(s)

Laurence Dreyfus

Phantasm

Christe qui Lux es a4 (II)

$2.30

In nomine a4 (II)

Composer(s)

William Byrd (c1540-1623)

Artist(s)

Laurence Dreyfus

Phantasm

In nomine a4 (II)

$2.30

Fantasia a6 (II)

Composer(s)

William Byrd (c1540-1623)

Artist(s)

Laurence Dreyfus

Phantasm

Fantasia a6 (II)

$2.30

Miserere a4

Composer(s)

William Byrd (c1540-1623)

Artist(s)

Laurence Dreyfus

Phantasm

Miserere a4

$2.30

Fantasia a4 (I)

Composer(s)

William Byrd (c1540-1623)

Artist(s)

Laurence Dreyfus

Phantasm

Fantasia a4 (I)

$2.30

Christe qui Lux es a4 (III)

Composer(s)

William Byrd (c1540-1623)

Artist(s)

Laurence Dreyfus

Phantasm

Christe qui Lux es a4 (III)

$2.30

In nomine a5 (V)

Composer(s)

William Byrd (c1540-1623)

Artist(s)

Laurence Dreyfus

Phantasm

In nomine a5 (V)

$2.30

In nomine a4 (I)

Composer(s)

William Byrd (c1540-1623)

Artist(s)

Laurence Dreyfus

Phantasm

In nomine a4 (I)

$2.30

Pavan and Galliard a6

Composer(s)

William Byrd (c1540-1623)

Artist(s)

Laurence Dreyfus

Phantasm

Pavan and Galliard a6

$2.30

Fantasia a6 (III) ('to the vyolls')

Composer(s)

William Byrd (c1540-1623)

Artist(s)

Laurence Dreyfus

Phantasm

Fantasia a6 (III) ('to the vyolls')

$2.30

Pavan and Galliard a5

Composer(s)

William Byrd (c1540-1623)

Artist(s)

Laurence Dreyfus

Phantasm

Pavan and Galliard a5

$2.30

Sermone Blando a 4 (II)

Composer(s)

William Byrd (c1540-1623)

Artist(s)

Laurence Dreyfus

Phantasm

Sermone Blando a 4 (II)

$2.30

Fantasia a3 (II)

Composer(s)

William Byrd (c1540-1623)

Artist(s)

Laurence Dreyfus

Phantasm

Fantasia a3 (II)

$2.30

Prelude and Goodnight Ground a5

Composer(s)

William Byrd (c1540-1623)

Artist(s)

Laurence Dreyfus

Phantasm

Prelude and Goodnight Ground a5

$2.30
Total running time: 79 minutes.





Album information

Phantasm perform the first complete collection of William Byrd's consort music, including new hymn settings that are premiere recordings.

Phantasm is recognized as the most exciting viol consort active on the world scene today.

This latest recording honours the most celebrated Elizabethan composer of Renaissance consort music, William Byrd. Byrd's viol music is polyphonic and full of melancholy. The performances on this recording brings out the rich, overlapping textures of the compositions creating a mesmerising sound.
Related Artists
Reviews