Filters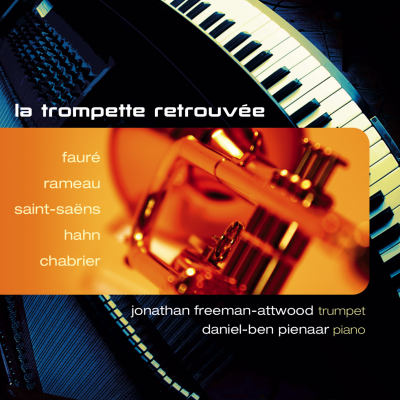 Booklet available for download
Suite from 'Nais' - Ouverture (La Discorde et La Guerre)

Composer(s)

Jean-Philippe Rameau

Artist(s)

Jonathan Freeman-Attwood (trumpet)Daniel-Ben Pienaar (piano)

Suite from 'Nais' - Ouverture (La Discorde et La Guerre)

$2.30

Suite from 'Nais' - Entrée majestueuse des dieux

Composer(s)

Jean-Philippe Rameau

Artist(s)

Jonathan Freeman-Attwood (trumpet)Daniel-Ben Pienaar (piano)

Suite from 'Nais' - Entrée majestueuse des dieux

$2.30

Suite from 'Nais' - Gavotte vive (pour les Zéphirs)

Composer(s)

Jean-Philippe Rameau

Artist(s)

Jonathan Freeman-Attwood (trumpet)

Daniel-Ben Pienaar (piano)

Suite from 'Nais' - Gavotte vive (pour les Zéphirs)

$2.30

Suite from 'Nais' - Sarabande

Composer(s)

Jean-Philippe Rameau

Artist(s)

Jonathan Freeman-Attwood (trumpet)

Daniel-Ben Pienaar (piano)

Suite from 'Nais' - Sarabande

$2.30

Suite from 'Nais' - Rigaudons

Composer(s)

Jean-Philippe Rameau

Artist(s)

Jonathan Freeman-Attwood (trumpet)Daniel-Ben Pienaar (piano)

Suite from 'Nais' - Rigaudons

$2.30

Suite from 'Nais' - Musette

Composer(s)

Jean-Philippe Rameau

Artist(s)

Jonathan Freeman-Attwood (trumpet)Daniel-Ben Pienaar (piano)

Suite from 'Nais' - Musette

$2.30

Suite from 'Nais' - Tambourins

Composer(s)

Jean-Philippe Rameau

Artist(s)

Jonathan Freeman-Attwood (trumpet)Daniel-Ben Pienaar (piano)

Suite from 'Nais' - Tambourins

$2.30

Suite from 'Nais' - Contredanse générale

Composer(s)

Jean-Philippe Rameau

Artist(s)

Jonathan Freeman-Attwood (trumpet)Daniel-Ben Pienaar (piano)

Suite from 'Nais' - Contredanse générale

$2.30

A Chloris

Composer(s)

Reynaldo Hahn

Artist(s)

Jonathan Freeman-Attwood (trumpet)

Daniel-Ben Pienaar (piano)

A Chloris

$2.30

Suite for Trumpet and Piano - Aubade

Composer(s)

Emmanuel Chabrier

Artist(s)

Jonathan Freeman-Attwood (trumpet)Daniel-Ben Pienaar (piano)

Suite for Trumpet and Piano - Aubade

$2.30

Suite for Trumpet and Piano - Danse villageoise

Composer(s)

Emmanuel Chabrier

Artist(s)

Jonathan Freeman-Attwood (trumpet)Daniel-Ben Pienaar (piano)

Suite for Trumpet and Piano - Danse villageoise

$2.30

Suite for Trumpet and Piano - Feuillet d'album

Composer(s)

Emmanuel Chabrier

Artist(s)

Jonathan Freeman-Attwood (trumpet)

Daniel-Ben Pienaar (piano)

Suite for Trumpet and Piano - Feuillet d'album

$2.30

Suite for Trumpet and Piano - Scherzo-valse

Composer(s)

Emmanuel Chabrier

Artist(s)

Jonathan Freeman-Attwood (trumpet)Daniel-Ben Pienaar (piano)

Suite for Trumpet and Piano - Scherzo-valse

$2.30

Romanza (Poco adagio) from Cello Sonata No.2 in F major, Op.123

Composer(s)

Camille Saint-Sa�ns �

Artist(s)

Jonathan Freeman-Attwood (trumpet)Daniel-Ben Pienaar (piano)

Romanza (Poco adagio) from Cello Sonata No.2 in F major, Op.123

$3.40

Deuxieme Sonate, Op.108 - Allegro non troppo

Composer(s)

Gabriel Fauré

Artist(s)

Jonathan Freeman-Attwood (trumpet)Daniel-Ben Pienaar (piano)

Deuxieme Sonate, Op.108 - Allegro non troppo

$3.40

Deuxieme Sonate, Op.108 - Andante

Composer(s)

Gabriel Fauré

Artist(s)

Jonathan Freeman-Attwood (trumpet)

Daniel-Ben Pienaar (piano)

Deuxieme Sonate, Op.108 - Andante

$3.40

Deuxieme Sonate, Op.108 - Allegro non troppo

Composer(s)

Gabriel Fauré

Artist(s)

Jonathan Freeman-Attwood (trumpet)Daniel-Ben Pienaar (piano)

Deuxieme Sonate, Op.108 - Allegro non troppo

$2.30
Total running time: 64 minutes.

Album information

A creative and well-presented programme of French works re-imagined for trumpet and piano by acclaimed trumpeter Jonathan Freeman-Attwood and Daniel-Ben Pienaar (piano).

La Trompette Retrouvée is Freeman-Attwood's second recording in his series with Linn Records and continues to explore his passion for expanding the limited chamber repertoire for trumpet by imaginatively arranging chamber works previously scored for alternative forces. He is joined on this recording by the pianist Daniel-Ben Pienaar.

As the title implies, this album contains works by French composers, transforming works originally for forces such as cello, piano and orchestra into convincing transcriptions for trumpet and piano. Freeman-Attwood allows the insistent demands of the originals to assert their primacy and dictate the nature of each transcription, producing music which pays homage to the legacy of the composer's intentions but also adds a fresh sound and spirit.
Related Artists
Reviews