Filters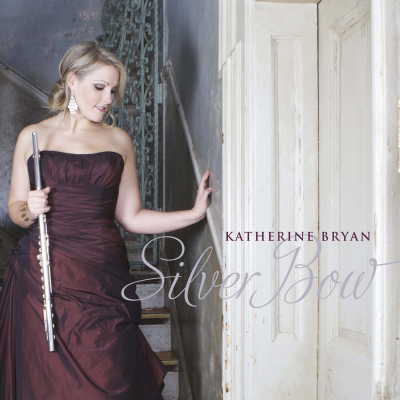 Inlay available for download
Booklet available for download
The Lark Ascending (Arr. K. Bryan for Flute & Orchestra)

Composer(s)

Ralph Vaughan Williams

Artist(s)

Jac van Steen

Katherine Bryan - Flute

Royal Scottish National Orchestra

The Lark Ascending (Arr. K. Bryan for Flute & Orchestra)

$5.75

Introduction et rondo capriccioso, Op. 28 (Arr. K. Bryan for Flute & Orchestra)

Composer(s)

Camille Saint-Saens

Artist(s)

Jac van Steen

Katherine Bryan - Flute

Royal Scottish National Orchestra

Introduction et rondo capriccioso, Op. 28 (Arr. K. Bryan for Flute & Orchestra)

$3.40

The Gadfly Suite, Op. 97a: Romance (Arr. K. Bryan & C. Hazell for Flute & Orchestra)

Composer(s)

Dmitri Shostakovich

Artist(s)

Jac van Steen

Katherine Bryan - Flute

Royal Scottish National Orchestra

The Gadfly Suite, Op. 97a: Romance (Arr. K. Bryan & C. Hazell for Flute & Orchestra)

$2.30

Serenade No. 1 (Arr. K. Bryan & C. Hazell for Flute & Orchestra)

Composer(s)

Frantisek Drdla

Artist(s)

Jac van Steen

Katherine Bryan - Flute

Royal Scottish National Orchestra

Serenade No. 1 (Arr. K. Bryan & C. Hazell for Flute & Orchestra)

$2.30

Romance in D-Flat Major, Op. 37, R. 192

Composer(s)

Camille Saint-Saens

Artist(s)

Jac van Steen

Katherine Bryan - Flute

Royal Scottish National Orchestra

Romance in D-Flat Major, Op. 37, R. 192

$2.30

24 Caprices for Solo Violin, Op. 1: No. 24 in A Minor (Arr. K. Bryan for Flute)

Composer(s)

Niccolo Paganini

Artist(s)

Katherine Bryan - Flute

24 Caprices for Solo Violin, Op. 1: No. 24 in A Minor (Arr. K. Bryan for Flute)

$2.30

Thais: Meditation (Arr. K. Bryan for Flute & Orchestra)

Composer(s)

Jules Massenet

Artist(s)

Jac van Steen

Katherine Bryan - Flute

Royal Scottish National Orchestra

Thais: Meditation (Arr. K. Bryan for Flute & Orchestra)

$2.30

Alt-Wiener Tanzweisen: Liebesleid (Arr. K. Bryan for Flute & Orchestra)

Composer(s)

Fritz Kreisler

Artist(s)

Jac van Steen

Katherine Bryan - Flute

Royal Scottish National Orchestra

Alt-Wiener Tanzweisen: Liebesleid (Arr. K. Bryan for Flute & Orchestra)

$2.30

Zigeunerweisen, Op. 20 (Arr. K. Bryan & C. Hazell for Flute & Orchestra)

Composer(s)

Pablo De Sarasate

Artist(s)

Jac van Steen

Katherine Bryan - Flute

Royal Scottish National Orchestra

Zigeunerweisen, Op. 20 (Arr. K. Bryan & C. Hazell for Flute & Orchestra)

$3.40
Total running time: 60 minutes.
Album information

Silver Bow sees flautist Katherine Bryan present a fresh view on some much-loved works, together with the Royal Scottish National Orchestra conducted by Jac van Steen. All the works, originally written for violin, feature captivating melodies that Katherine believes were crying out to be explored from the perspective of a different instrument.

The recording opens with Vaughan Williams' The Lark Ascending; this favourite from the classical repertoire is a perfect fit for flute, an instrument often used to depict birdsong. There are dazzling showpieces from Saint-Saëns and Sarasate plus Paganini's 24th Caprice which features flutter tongueing (Variation 5) and pop tongueing (Variation 7). Bryan's beautiful tone is showcased on works such as Kreisler's Liebesleid and Massenet's Meditation from Thaïs.

All the solo violin parts have been transcribed and adapted for flute by Bryan herself.
Related Artists
Reviews