Filters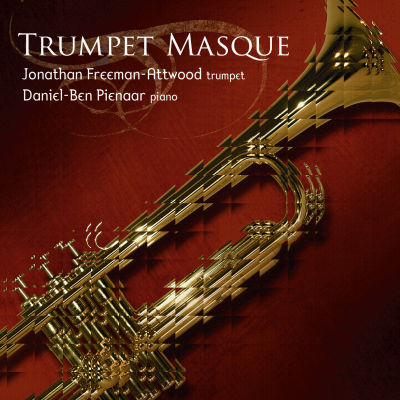 Inlay available for download
Booklet available for download
Pieces d'orgue Book 3: Grand Dialogue du 5e Ton

Composer(s)

Louis Marchand

Artist(s)

Jonathan Freeman-Attwood - trumpetDaniel-Ben Pienaar - piano

Pieces d'orgue Book 3: Grand Dialogue du 5e Ton

$2.30

Piece d'orgue: Messe pour les Couvents – Chromhorne sur la Taille

Composer(s)

Francois Couperin

Artist(s)

Jonathan Freeman-Attwood - trumpetDaniel-Ben Pienaar - piano

Piece d'orgue: Messe pour les Couvents – Chromhorne sur la Taille

$2.30

Canzon seconda (from Canzoni per sonare)

Composer(s)

Giovanni Gabrieli

Artist(s)

Jonathan Freeman-Attwood - trumpetDaniel-Ben Pienaar - piano

Canzon seconda (from Canzoni per sonare)

$2.30

Tiento XVII de 'Pange lingua' punt alt

Composer(s)

Joan Cabanilles

Artist(s)

Jonathan Freeman-Attwood - trumpetDaniel-Ben Pienaar - piano

Tiento XVII de 'Pange lingua' punt alt

$2.30

Tiento de medio registro, no.36 (from Facultad organica)

Composer(s)

Francisco Correa de Arauxo

Artist(s)

Jonathan Freeman-Attwood - trumpetDaniel-Ben Pienaar - piano

Tiento de medio registro, no.36 (from Facultad organica)

$2.30

Der Herr ist gross, SWV 286 (from Kleine geistliche Concerte)

Composer(s)

Heinrich Sch�tz

Artist(s)

Jonathan Freeman-Attwood - trumpetDaniel-Ben Pienaar - piano

Der Herr ist gross, SWV 286 (from Kleine geistliche Concerte)

$2.30

Laudate Dominum (from Selve Morale)

Composer(s)

Claudio Monteverdi

Artist(s)

Jonathan Freeman-Attwood - trumpetDaniel-Ben Pienaar - piano

Laudate Dominum (from Selve Morale)

$2.30

Ein feste Burg ist unser Gott (BuxWV184)

Composer(s)

Dietrich Buxtehude

Artist(s)

Jonathan Freeman-Attwood - trumpetDaniel-Ben Pienaar - piano

Ein feste Burg ist unser Gott (BuxWV184)

$2.30

Vater unser in Himmelreich

Artist(s)

Jonathan Freeman-Attwood - trumpetDaniel-Ben Pienaar - piano

Vater unser in Himmelreich

$2.30

When the poore Criple (A Pilgrimes Solace)

Artist(s)

Jonathan Freeman-Attwood - trumpetDaniel-Ben Pienaar - piano

When the poore Criple (A Pilgrimes Solace)

$2.30

'Dovehouse' Pavan

Composer(s)

Anthony Holborne

Artist(s)

Jonathan Freeman-Attwood - trumpetDaniel-Ben Pienaar - piano

'Dovehouse' Pavan

$2.30

'Dovehouse' Galliard

Composer(s)

Anthony Holborne

Artist(s)

Jonathan Freeman-Attwood - trumpetDaniel-Ben Pienaar - piano

'Dovehouse' Galliard

$2.30

Fantasia 4, Z735

Composer(s)

Henry Purcell

Artist(s)

Jonathan Freeman-Attwood - trumpetDaniel-Ben Pienaar - piano

Fantasia 4, Z735

$2.30

Variations on 'Onder een linde groen'

Composer(s)

Jan Pieterzoon Sweelinck

Artist(s)

Jonathan Freeman-Attwood - trumpetDaniel-Ben Pienaar - piano

Variations on 'Onder een linde groen'

$2.30

Scocca pur (The 2nd Part of Musick's Handmaid)

Composer(s)

Jean-Baptiste Lully

Artist(s)

Jonathan Freeman-Attwood - trumpetDaniel-Ben Pienaar - piano

Scocca pur (The 2nd Part of Musick's Handmaid)

$2.30

Sonata VIII (Fidicinium sacro-profanum) Allegro / Presto / Adagio

Composer(s)

Heinrich Ignaz Franz von Biber

Artist(s)

Jonathan Freeman-Attwood - trumpetDaniel-Ben Pienaar - piano

Sonata VIII (Fidicinium sacro-profanum) Allegro / Presto / Adagio

$2.30

Sonata no.5 in G major (Armonico Tributo) - Allemanda

Artist(s)

Jonathan Freeman-Attwood - trumpetDaniel-Ben Pienaar - piano

Sonata no.5 in G major (Armonico Tributo) - Allemanda

$2.30

Sonata no.5 in G major (Armonico Tributo) - Adagio

Artist(s)

Jonathan Freeman-Attwood - trumpetDaniel-Ben Pienaar - piano

Sonata no.5 in G major (Armonico Tributo) - Adagio

$2.30

Sonata no.5 in G major (Armonico Tributo) - Fuga

Artist(s)

Jonathan Freeman-Attwood - trumpetDaniel-Ben Pienaar - piano

Sonata no.5 in G major (Armonico Tributo) - Fuga

$2.30

Sonata no.5 in G major (Armonico Tributo) - Adagio

Artist(s)

Jonathan Freeman-Attwood - trumpetDaniel-Ben Pienaar - piano

Sonata no.5 in G major (Armonico Tributo) - Adagio

$2.30

Sonata no.5 in G major (Armonico Tributo) - Passacaglia

Artist(s)

Jonathan Freeman-Attwood - trumpetDaniel-Ben Pienaar - piano

Sonata no.5 in G major (Armonico Tributo) - Passacaglia

$3.40
Total running time: 71 minutes.
Album information

Virtuoso trumpeter Jonathan Freeman-Attwood and pianist Daniel-Ben Pienaar present the third in the series of works 're-imagined' for solo trumpet - an imaginative and thrilling interpretation of Baroque works. 

Trumpet Masque sees renowned trumpeter Jonathan Freeman-Attwood explore his passion for expanding the instrument's limited chamber repertoire by imaginatively arranging Baroque works previously scored for alternative forces. In Trumpet Masque, Jonathan Freeman-Attwood and Daniel-Ben Pienaar take a radical new look at the seveneenth century with a compelling vision of repertoire historically far-removed from the traditional contexts of both trumpet and piano.

Through wonderfully vibrant programming and arrangements, this invigorating and warm-hearted chamber duo present music from Dowland to Purcell in an energetic, innovative and twenty-first century fashion. The aim of this recording is to open our ears to a period of unequalled variety, colour, regional diversity and expressive freedom: the Venetian world of Gabrieli, the great pre-Bach north German lineage of Buxtehude, Jacobean dances and songs and the great G major Sonata from Muffat's 'Armonico Tributo' with its virtuoso and valedictory passacaglia, which appropriately ends the album.

Trumpet Masque provides a unique twenty-first century perspective on re-discovered chamber music of the Baroque period expertly re-worked for trumpet and piano.
  
Related Artists
Reviews