Filters
Vanitas - Beethoven, Schubert & Rihm
Vanitas - Beethoven, Schubert & Rihm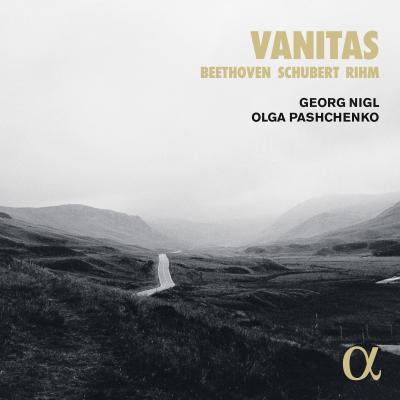 Inlay available for download
Booklet available for download
Im Freien, D. 880

Composer(s)

Franz Schubert

Artist(s)

Georg Nigl

Olga Pashchenko

Im Freien, D. 880

$2.30

Die Sommernacht, D. 289

Composer(s)

Franz Schubert

Artist(s)

Georg Nigl

Olga Pashchenko

Die Sommernacht, D. 289

$2.30

Die Taubenpost, D. 965A

Composer(s)

Franz Schubert

Artist(s)

Georg Nigl

Olga Pashchenko

Die Taubenpost, D. 965A

$2.30

Die Forelle, D. 550

Composer(s)

Franz Schubert

Artist(s)

Georg Nigl

Olga Pashchenko

Die Forelle, D. 550

$2.30

Der Wanderer an den Mond, D. 870

Composer(s)

Franz Schubert

Artist(s)

Georg Nigl

Olga Pashchenko

Der Wanderer an den Mond, D. 870

$2.30

Das Zügenglöcklein, D. 871

Composer(s)

Franz Schubert

Artist(s)

Georg Nigl

Olga Pashchenko

Das Zügenglöcklein, D. 871

$2.30

Abendstern, D. 806

Composer(s)

Franz Schubert

Artist(s)

Georg Nigl

Olga Pashchenko

Abendstern, D. 806

$2.30

Fischerweise, D. 881

Composer(s)

Franz Schubert

Artist(s)

Georg Nigl

Olga Pashchenko

Fischerweise, D. 881

$2.30

An die Ferne Geliebte, Op. 98

Composer(s)

Ludwig van Beethoven

Artist(s)

Georg Nigl

Olga Pashchenko

An die Ferne Geliebte, Op. 98

$5.75

Vermischter Traum: I. Majestoso sostenuto

Composer(s)

Wolfgang Rihm

Artist(s)

Georg Nigl

Olga Pashchenko

Vermischter Traum: I. Majestoso sostenuto

$2.30

Vermischter Traum: II. Andante

Composer(s)

Wolfgang Rihm

Artist(s)

Georg Nigl

Olga Pashchenko

Vermischter Traum: II. Andante

$2.30

Vermischter Traum: III. Grave, ma non troppo

Composer(s)

Wolfgang Rihm

Artist(s)

Georg Nigl

Olga Pashchenko

Vermischter Traum: III. Grave, ma non troppo

$2.30

Vermischter Traum: IV. Andante

Composer(s)

Wolfgang Rihm

Artist(s)

Georg Nigl

Olga Pashchenko

Vermischter Traum: IV. Andante

$2.30

Vermischter Traum: V. Lento, ma non troppo

Composer(s)

Wolfgang Rihm

Artist(s)

Georg Nigl

Olga Pashchenko

Vermischter Traum: V. Lento, ma non troppo

$2.30

Vermischter Traum: VI. Andante

Composer(s)

Wolfgang Rihm

Artist(s)

Georg Nigl

Olga Pashchenko

Vermischter Traum: VI. Andante

$2.30

Vermischter Traum: VII. Con moto, appassionato

Composer(s)

Wolfgang Rihm

Artist(s)

Georg Nigl

Olga Pashchenko

Vermischter Traum: VII. Con moto, appassionato

$2.30

Der Winterabend, D. 938

Composer(s)

Franz Schubert

Artist(s)

Georg Nigl

Olga Pashchenko

Der Winterabend, D. 938

$3.40

Die Sterne, D. 939

Composer(s)

Franz Schubert

Artist(s)

Georg Nigl

Olga Pashchenko

Die Sterne, D. 939

$2.30

An die Musik, D. 547

Composer(s)

Franz Schubert

Artist(s)

Georg Nigl

Olga Pashchenko

An die Musik, D. 547

$2.30

Wandrers Nachtlied, D. 768

Composer(s)

Franz Schubert

Artist(s)

Georg Nigl

Olga Pashchenko

Wandrers Nachtlied, D. 768

$2.30

Erlafsee, D. 586

Composer(s)

Franz Schubert

Artist(s)

Georg Nigl

Olga Pashchenko

Erlafsee, D. 586

$2.30

Abschied, D. 475

Composer(s)

Franz Schubert

Artist(s)

Georg Nigl

Olga Pashchenko

Abschied, D. 475

$2.30
Total running time: 93 minutes.





Album information

Baritone Georg Nigl and pianist Olga Pashchenko explore the tortuous meanders of the human soul through Schubert, Beethoven and Wolfgang Rihm. It was named a winner at the annual Preis der deutschen Schallplattenkritik Awards, 2021.

Like the paintings of the Flemish Baroque painters, the 'vanities' presented here can be approached in two ways: on the one hand, as manifestations of doubts and anxieties at the fragility of human life; on the other, as delights to be savoured without moderation, celebrating earthly life through the senses and the pleasure that human beings can derive from them.

After two critically acclaimed recordings each for Alpha, Georg Nigl and Olga Pashchenko perform vocal works by Schubert (an 'existentialist' composer if ever there was one), Beethoven (whose torments hardly need stressing) and the contemporary composer Wolfgang Rihm, whose highly expressionistic Jakob Lenz (ALPHA717) Nigl performed on stage in 2019. His piece Vermischter Traum, here given its world premiere, is dedicated to the Austrian singer.
Related Artists
Reviews