Filters
A Varietie of Lute Lessons
A Varietie of Lute Lessons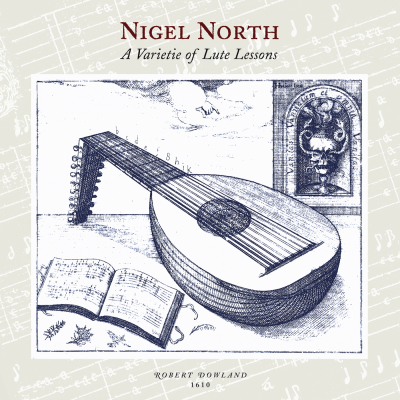 Inlay available for download
A Varietie Of Lute Lessons: Galliard No. 2 "The Most Sacred Queen Elizabeth, Her Galliard"

Artist(s)

Nigel North: lute

A Varietie Of Lute Lessons: Galliard No. 2 "The Most Sacred Queen Elizabeth, Her Galliard"

$1.80

A Varietie Of Lute Lessons: Galliard No. 4 "The Right Honourable Ferdinando Earle Of Darby, His Galliard"

Artist(s)

Nigel North: lute

A Varietie Of Lute Lessons: Galliard No. 4 "The Right Honourable Ferdinando Earle Of Darby, His Galliard"

$1.80

A Varietie Of Lute Lessons: Fantasie No. 2

Composer(s)

The Knight of the Lute

Artist(s)

Nigel North: lute

A Varietie Of Lute Lessons: Fantasie No. 2

$1.80

A Varietie Of Lute Lessons: Pavan No. 2

Composer(s)

Anthonie Holborne

Artist(s)

Nigel North: lute

A Varietie Of Lute Lessons: Pavan No. 2

$1.80

A Varietie Of Lute Lessons: Galliard No. 6 "The Right Honourable The Lady Clifton's Spirit"

Composer(s)

John Dowland, Robert Dowland

Artist(s)

Nigel North: lute

A Varietie Of Lute Lessons: Galliard No. 6 "The Right Honourable The Lady Clifton's Spirit"

$1.80

A Varietie Of Lute Lessons: Volta No. 1 - Volta No. 2

Composer(s)

Anonymous, Robert Ballard

Artist(s)

Nigel North: lute

A Varietie Of Lute Lessons: Volta No. 1 - Volta No. 2

$1.80

A Varietie Of Lute Lessons: Galliard No. 3 "The Right Honourable Robert Earle Of Effex, High Marshall Of England, His Galliard"

Artist(s)

Nigel North: lute

A Varietie Of Lute Lessons: Galliard No. 3 "The Right Honourable Robert Earle Of Effex, High Marshall Of England, His Galliard"

$1.80

A Varietie Of Lute Lessons: Coranto No. 4

Composer(s)

Mounsier Saman

Artist(s)

Nigel North: lute

A Varietie Of Lute Lessons: Coranto No. 4

$1.80

A Varietie Of Lute Lessons: Almaine No. 2 "Sir Henry Guilforde, His Almaine"

Artist(s)

Nigel North: lute

A Varietie Of Lute Lessons: Almaine No. 2 "Sir Henry Guilforde, His Almaine"

$1.80

A Varietie Of Lute Lessons: Fantasie No. 1

Composer(s)

Diomedes Cato

Artist(s)

Nigel North: lute

A Varietie Of Lute Lessons: Fantasie No. 1

$1.80

A Varietie Of Lute Lessons: Pavan No. 4

Composer(s)

Daniel Batchelar

Artist(s)

Nigel North: lute

A Varietie Of Lute Lessons: Pavan No. 4

$1.80

A Varietie Of Lute Lessons: Almaine No. 7 "Sir John Smith, His Almaine"

Artist(s)

Nigel North: lute

A Varietie Of Lute Lessons: Almaine No. 7 "Sir John Smith, His Almaine"

$1.80

A Varietie Of Lute Lessons: Galliard No. 1 "The Most High And Mightie Christianus The Fourth King Of Denmark, His Galliard"

Artist(s)

Nigel North: lute

A Varietie Of Lute Lessons: Galliard No. 1 "The Most High And Mightie Christianus The Fourth King Of Denmark, His Galliard"

$1.80

A Varietie Of Lute Lessons: Fantasie No. 4

Composer(s)

Laurencini of Rome

Artist(s)

Nigel North: lute

A Varietie Of Lute Lessons: Fantasie No. 4

$1.80

A Varietie Of Lute Lessons: Pavan No. 3

Composer(s)

Thomas Morley

Artist(s)

Nigel North: lute

A Varietie Of Lute Lessons: Pavan No. 3

$1.80

A Varietie Of Lute Lessons: Galliard No. 5 "The Right Honourable The Lady Rich, Her Galliard"

Artist(s)

Nigel North: lute

A Varietie Of Lute Lessons: Galliard No. 5 "The Right Honourable The Lady Rich, Her Galliard"

$1.80

A Varietie Of Lute Lessons: Fantasie No. 5

Composer(s)

Alfonso Ferrebosco

Artist(s)

Nigel North: lute

A Varietie Of Lute Lessons: Fantasie No. 5

$1.80

A Varietie Of Lute Lessons: Pavan No. 6

Composer(s)

Alfonso Ferrebosco

Artist(s)

Nigel North: lute

A Varietie Of Lute Lessons: Pavan No. 6

$1.80

A Varietie Of Lute Lessons: Coranto No. 1 - Coranto No. 2

Composer(s)

Robert Ballard, John Perrichon

Artist(s)

Nigel North: lute

A Varietie Of Lute Lessons: Coranto No. 1 - Coranto No. 2

$1.80

A Varietie Of Lute Lessons: Fantasie No. 6

Composer(s)

Gregorio Huwet

Artist(s)

Nigel North: lute

A Varietie Of Lute Lessons: Fantasie No. 6

$1.80

A Varietie Of Lute Lessons: Pavan No. 1

Composer(s)

Landgraf Moritz

Artist(s)

Nigel North: lute

A Varietie Of Lute Lessons: Pavan No. 1

$1.80

A Varietie Of Lute Lessons: Almaine No. 1 "Monsiuers Almaine"

Composer(s)

Daniel Batchelar

Artist(s)

Nigel North: lute

A Varietie Of Lute Lessons: Almaine No. 1 "Monsiuers Almaine"

$1.80
Total running time: 77 minutes.
Album information

A superb collection of early music by Dowland, Holborne and others, infused with life by the brilliant Nigel North.

Nigel North's affection for, and understanding of, this music, which he first played over forty years ago, is palpable. This anthology of forty two pieces (seven examples of six musical forms popular in 1610) by lutenist-composers from England, France, Italy and the Low Countries demonstrates true variety as each lutenist-composer uses the instrument in such unique personal ways.

As the greatest English lutenist of his age, John Dowland contributes nearly half of the programme; North's specially commissioned 9 course lute ensures the sound world, although less familiar to us, is one which was well appreciated in Dowland's world.

Working from his own new edition, North's performance corrects several misprints including the first note of the first piece - previously attributed to the wrong string!
Related Artists
Reviews