Filters
Bach On The Lute Volume 4
Bach On The Lute Volume 4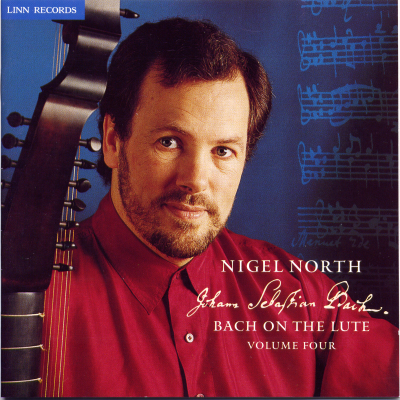 Suite No. 3 In G Major (after BWV 1009) <br>i Prelude (presto)

Suite No. 3 In G Major (after BWV 1009) i Prelude (presto)

$1.80

Suite No. 5 In G Minor (after BWV 995 & 1011)<br>i Prelude - Tres Vite

Suite No. 5 In G Minor (after BWV 995 & 1011)i Prelude - Tres Vite

$1.80

Suite No. 6 In D Major (after BWV 1012) <br>i Prelude

Suite No. 6 In D Major (after BWV 1012) i Prelude

$1.80

ii Allemande (adagio)

$2.70
Total running time: 71 minutes.
Album information

The final album in the triumphant and critically acclaimed Bach series from leading lutenist North. 

The benchmark against which other Baroque lute recordings are measured, this series remains popular. North applies his encyclopaedic knowledge and instinctive flair for the lute, to the transcriptions and arrangements of works for violin and cello by J.S. Bach, a practice started by the composer himself who frequently re-scored existing pieces if a work for lute was required. The ever-popular Cello Suites are transformed when played on lute. The instrument allows North to sustain and clarify the counterpoint, harmony and bass line which is sketched in the original, creating an authentic, yet quite unique interpretation. 
Related Artists
Reviews