Filters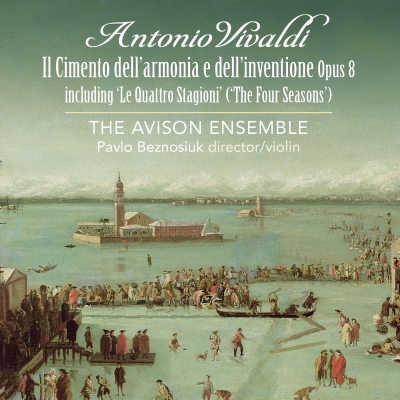 Inlay available for download
Booklet available for download
Violin Concerto in E Major, Opus 8, No. 1, RV. 269, 'La Primavera' (Spring) - I. Allegro

Composer(s)

Antonio Vivaldi

Artist(s)

Pavlo Beznosiuk

The Avison Ensemble

Violin Concerto in E Major, Opus 8, No. 1, RV. 269, 'La Primavera' (Spring) - I. Allegro

$2.30

Violin Concerto in E Major, Opus 8, No. 1, RV. 269, 'La Primavera' (Spring) - II. Largo

Composer(s)

Antonio Vivaldi

Artist(s)

Pavlo Beznosiuk

The Avison Ensemble

Violin Concerto in E Major, Opus 8, No. 1, RV. 269, 'La Primavera' (Spring) - II. Largo

$2.30

Violin Concerto in E Major, Opus 8, No. 1, RV. 269, 'La Primavera' (Spring) - III. Allegro

Composer(s)

Antonio Vivaldi

Artist(s)

Pavlo Beznosiuk

The Avison Ensemble

Violin Concerto in E Major, Opus 8, No. 1, RV. 269, 'La Primavera' (Spring) - III. Allegro

$2.30

Violin Concerto in G minor, Opus 8, No. 2, RV. 315, 'L'Estate' (Summer) - I. Allegro non molto

Composer(s)

Antonio Vivaldi

Artist(s)

Pavlo Beznosiuk

The Avison Ensemble

Violin Concerto in G minor, Opus 8, No. 2, RV. 315, 'L'Estate' (Summer) - I. Allegro non molto

$2.30

Violin Concerto in G minor, Opus 8, No. 2, RV. 315, RV.315, 'L'Estate' (Summer) - II. Adagio

Composer(s)

Antonio Vivaldi

Artist(s)

Pavlo Beznosiuk

The Avison Ensemble

Violin Concerto in G minor, Opus 8, No. 2, RV. 315, RV.315, 'L'Estate' (Summer) - II. Adagio

$2.30

Violin Concerto in G minor, Opus 8, No. 2, RV. 315, 'L'Estate' (Summer) - III. Presto

Composer(s)

Antonio Vivaldi

Artist(s)

Pavlo Beznosiuk

The Avison Ensemble

Violin Concerto in G minor, Opus 8, No. 2, RV. 315, 'L'Estate' (Summer) - III. Presto

$2.30

Violin Concerto in F Major, Opus 8, No. 3, RV. 293, 'L'Autunno' (Autumn) - I. Allegro

Composer(s)

Antonio Vivaldi

Artist(s)

Pavlo Beznosiuk

The Avison Ensemble

Violin Concerto in F Major, Opus 8, No. 3, RV. 293, 'L'Autunno' (Autumn) - I. Allegro

$2.30

Violin Concerto in F Major, Opus 8, No. 3, RV. 293, 'L'Autunno' (Autumn) - II. Adagio molto

Composer(s)

Antonio Vivaldi

Artist(s)

Pavlo Beznosiuk

The Avison Ensemble

Violin Concerto in F Major, Opus 8, No. 3, RV. 293, 'L'Autunno' (Autumn) - II. Adagio molto

$2.30

Violin Concerto in F Major, Opus 8, No. 3, RV. 293, 'L'Autunno' (Autumn) - III. Allegro

Composer(s)

Antonio Vivaldi

Artist(s)

Pavlo Beznosiuk

The Avison Ensemble

Violin Concerto in F Major, Opus 8, No. 3, RV. 293, 'L'Autunno' (Autumn) - III. Allegro

$2.30

Violin Concerto in F minor, Opus 8, No. 4, RV. 297, 'L'Inverno' (Winter) - I. Allegro non molto

Composer(s)

Antonio Vivaldi

Artist(s)

Pavlo Beznosiuk

The Avison Ensemble

Violin Concerto in F minor, Opus 8, No. 4, RV. 297, 'L'Inverno' (Winter) - I. Allegro non molto

$2.30

Violin Concerto in F minor, Opus 8, No. 4, RV. 297, 'L'Inverno' (Winter) - II. Largo

Composer(s)

Antonio Vivaldi

Artist(s)

Pavlo Beznosiuk

The Avison Ensemble

Violin Concerto in F minor, Opus 8, No. 4, RV. 297, 'L'Inverno' (Winter) - II. Largo

$2.30

Violin Concerto in F minor, Opus 8, No. 4, RV. 297, 'L'Inverno' (Winter) - III. Allegro

Composer(s)

Antonio Vivaldi

Artist(s)

Pavlo Beznosiuk

The Avison Ensemble

Violin Concerto in F minor, Opus 8, No. 4, RV. 297, 'L'Inverno' (Winter) - III. Allegro

$2.30

Violin Concerto in E flat Major, Opus 8, No. 5, RV. 253, 'La Tempesta di Mare' - I. Presto

Composer(s)

Antonio Vivaldi

Artist(s)

Pavlo Beznosiuk

The Avison Ensemble

Violin Concerto in E flat Major, Opus 8, No. 5, RV. 253, 'La Tempesta di Mare' - I. Presto

$2.30

Violin Concerto in E flat Major, Opus 8, No. 5, RV. 253, 'La Tempesta di Mare' - II. Largo

Composer(s)

Antonio Vivaldi

Artist(s)

Pavlo Beznosiuk

The Avison Ensemble

Violin Concerto in E flat Major, Opus 8, No. 5, RV. 253, 'La Tempesta di Mare' - II. Largo

$2.30

Violin Concerto in E flat Major, Opus 8, No. 5, RV. 253, 'La Tempesta di Mare' - III. Presto

Composer(s)

Antonio Vivaldi

Artist(s)

Pavlo Beznosiuk

The Avison Ensemble

Violin Concerto in E flat Major, Opus 8, No. 5, RV. 253, 'La Tempesta di Mare' - III. Presto

$2.30

Violin Concerto in C Major, Opus 8, No. 6, RV. 180, 'Il Piacere' - I. Allegro

Composer(s)

Antonio Vivaldi

Artist(s)

Pavlo Beznosiuk

The Avison Ensemble

Violin Concerto in C Major, Opus 8, No. 6, RV. 180, 'Il Piacere' - I. Allegro

$2.30

Violin Concerto in C Major, Opus 8, No. 6, RV. 180, 'Il Piacere' - II. Largo e cantabile

Composer(s)

Antonio Vivaldi

Artist(s)

Pavlo Beznosiuk

The Avison Ensemble

Violin Concerto in C Major, Opus 8, No. 6, RV. 180, 'Il Piacere' - II. Largo e cantabile

$2.30

Violin Concerto in C Major, Opus 8, No. 6, RV. 180, 'Il Piacere' - III. Allegro

Composer(s)

Antonio Vivaldi

Artist(s)

Pavlo Beznosiuk

The Avison Ensemble

Violin Concerto in C Major, Opus 8, No. 6, RV. 180, 'Il Piacere' - III. Allegro

$2.30

Violin Concerto in D minor, Opus 8, No. 7, RV. 242 - I. Allegro

Composer(s)

Antonio Vivaldi

Artist(s)

Pavlo Beznosiuk

The Avison Ensemble

Violin Concerto in D minor, Opus 8, No. 7, RV. 242 - I. Allegro

$2.30

Violin Concerto in D minor, Opus 8, No. 7, RV. 242 - II. Largo

Composer(s)

Antonio Vivaldi

Artist(s)

Pavlo Beznosiuk

The Avison Ensemble

Violin Concerto in D minor, Opus 8, No. 7, RV. 242 - II. Largo

$2.30

Violin Concerto in D minor, Opus 8, No. 7, RV. 242 - III. Allegro

Composer(s)

Antonio Vivaldi

Artist(s)

Pavlo Beznosiuk

The Avison Ensemble

Violin Concerto in D minor, Opus 8, No. 7, RV. 242 - III. Allegro

$2.30

Violin Concerto in G minor, Opus 8, No. 8, RV. 332 - I. Allegro

Composer(s)

Antonio Vivaldi

Artist(s)

Pavlo Beznosiuk

The Avison Ensemble

Violin Concerto in G minor, Opus 8, No. 8, RV. 332 - I. Allegro

$2.30

Violin Concerto in G minor, Opus 8, No. 8, RV. 332 - II. Largo

Composer(s)

Antonio Vivaldi

Artist(s)

Pavlo Beznosiuk

The Avison Ensemble

Violin Concerto in G minor, Opus 8, No. 8, RV. 332 - II. Largo

$2.30

Violin Concerto in G minor, Opus 8, No. 8, RV. 332 - III. Allegro

Composer(s)

Antonio Vivaldi

Artist(s)

Pavlo Beznosiuk

The Avison Ensemble

Violin Concerto in G minor, Opus 8, No. 8, RV. 332 - III. Allegro

$2.30

Violin Concerto in D minor, Opus 8, No. 9, RV. 236 - I. Allegro

Composer(s)

Antonio Vivaldi

Artist(s)

Pavlo Beznosiuk

The Avison Ensemble

Violin Concerto in D minor, Opus 8, No. 9, RV. 236 - I. Allegro

$2.30

Violin Concerto in D minor, Opus 8, No. 9, RV. 236 - II. Largo

Composer(s)

Antonio Vivaldi

Artist(s)

Pavlo Beznosiuk

The Avison Ensemble

Violin Concerto in D minor, Opus 8, No. 9, RV. 236 - II. Largo

$2.30

Violin Concerto in D minor, Opus 8, No. 9, RV. 236 - III. Allegro

Composer(s)

Antonio Vivaldi

Artist(s)

Pavlo Beznosiuk

The Avison Ensemble

Violin Concerto in D minor, Opus 8, No. 9, RV. 236 - III. Allegro

$2.30

Violin Concerto in B flat Major, Opus 8, No. 10, RV. 362, 'La Caccia' - I. Allegro

Composer(s)

Antonio Vivaldi

Artist(s)

Pavlo Beznosiuk

The Avison Ensemble

Violin Concerto in B flat Major, Opus 8, No. 10, RV. 362, 'La Caccia' - I. Allegro

$2.30

Violin Concerto in B flat Major, Opus 8, No. 10, RV. 362, 'La Caccia' - II. Adagio

Composer(s)

Antonio Vivaldi

Artist(s)

Pavlo Beznosiuk

The Avison Ensemble

Violin Concerto in B flat Major, Opus 8, No. 10, RV. 362, 'La Caccia' - II. Adagio

$2.30

Violin Concerto in B flat Major, Opus 8, No. 10, RV. 362, 'La Caccia' - III. Allegro

Composer(s)

Antonio Vivaldi

Artist(s)

Pavlo Beznosiuk

The Avison Ensemble

Violin Concerto in B flat Major, Opus 8, No. 10, RV. 362, 'La Caccia' - III. Allegro

$2.30

Violin Concerto in D Major, Opus 8, No. 11, RV. 210 - I. Allegro

Composer(s)

Antonio Vivaldi

Artist(s)

Pavlo Beznosiuk

The Avison Ensemble

Violin Concerto in D Major, Opus 8, No. 11, RV. 210 - I. Allegro

$2.30

Violin Concerto in D Major, Opus 8, No. 11, RV. 210 - II. Largo

Composer(s)

Antonio Vivaldi

Artist(s)

Pavlo Beznosiuk

The Avison Ensemble

Violin Concerto in D Major, Opus 8, No. 11, RV. 210 - II. Largo

$2.30

Violin Concerto in D Major, Opus 8, No. 11, RV. 210 - III. Allegro

Composer(s)

Antonio Vivaldi

Artist(s)

Pavlo Beznosiuk

The Avison Ensemble

Violin Concerto in D Major, Opus 8, No. 11, RV. 210 - III. Allegro

$2.30

Violin Concerto in C Major, Opus 8, No. 12, RV. 178 - I. Allegro

Composer(s)

Antonio Vivaldi

Artist(s)

Pavlo Beznosiuk

The Avison Ensemble

Violin Concerto in C Major, Opus 8, No. 12, RV. 178 - I. Allegro

$2.30

Violin Concerto in C Major, Opus 8, No. 12, RV. 178 - II. Largo

Composer(s)

Antonio Vivaldi

Artist(s)

Pavlo Beznosiuk

The Avison Ensemble

Violin Concerto in C Major, Opus 8, No. 12, RV. 178 - II. Largo

$2.30

Violin Concerto in C Major, Opus 8, No. 12, RV. 178 - III. Allegro

Composer(s)

Antonio Vivaldi

Artist(s)

Pavlo Beznosiuk

The Avison Ensemble

Violin Concerto in C Major, Opus 8, No. 12, RV. 178 - III. Allegro

$2.30
Total running time: 112 minutes.

Album information

The UK's leading period instrument ensemble, The Avison Ensemble, presents an insightful performance of Antonio Vivaldi's complete Opus 8, including the famous 'Four Seasons'.

Vivaldi: Concerti Opus 8 is the anticipated second recording in The Avison Ensemble's Baroque series, which includes the complete recording of Antonio Vivaldi's virtuosic violin concertos by the outstanding period instrument orchestra. Directed by Pavlo Beznosiuk, Britain's foremost Baroque violin virtuosi, the ensemble presents an insightful performance of the masterpiece that is brimming with energy.

Vivaldi's Concerti Opus 8 includes 'The Four Seasons' which is, without a doubt, Vivaldi's best-known work. Each of the twelve concertos is extremely demanding and Beznosiuk's virtuosity permeates throughout each performance. The thematic elements within each innovative work results in a collection that is colourful, fresh and emotionally charged. Opus 8 is a true testament of Vivaldi's ability for invention and variation.
Related Artists
Reviews