Filters
Corelli: Opus 1 & 3: Church Sonatas
Corelli: Opus 1 & 3: Church Sonatas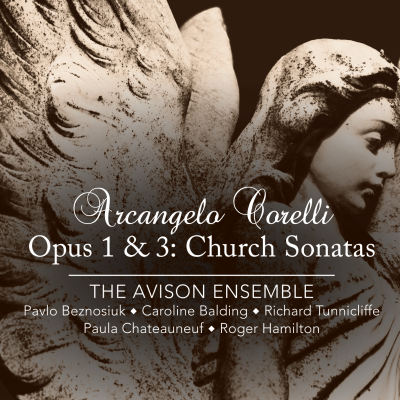 Inlay available for download
Booklet available for download
Sonata da chiesa a tre in F Major, No. 1 - I. Grave

Composer(s)

Arcangelo Corelli�

Artist(s)

The Avison Ensemble

Sonata da chiesa a tre in F Major, No. 1 - I. Grave

$2.30

Sonata da chiesa a tre in F Major, No. 1 - II. Allegro

Composer(s)

Arcangelo Corelli�

Artist(s)

The Avison Ensemble

Sonata da chiesa a tre in F Major, No. 1 - II. Allegro

$2.30

Sonata da chiesa a tre in F Major, No. 1 - III. Largo

Composer(s)

Arcangelo Corelli�

Artist(s)

The Avison Ensemble

Sonata da chiesa a tre in F Major, No. 1 - III. Largo

$2.30

Sonata da chiesa a tre in F Major, No. 1 - IV. Allegro

Composer(s)

Arcangelo Corelli�

Artist(s)

The Avison Ensemble

Sonata da chiesa a tre in F Major, No. 1 - IV. Allegro

$2.30

Sonata da chiesa a tre in E minor, No. 2 - I. Grave

Composer(s)

Arcangelo Corelli�

Artist(s)

The Avison Ensemble

Sonata da chiesa a tre in E minor, No. 2 - I. Grave

$2.30

Sonata da chiesa a tre in E minor, No. 2 - II. Vivace

Composer(s)

Arcangelo Corelli�

Artist(s)

The Avison Ensemble

Sonata da chiesa a tre in E minor, No. 2 - II. Vivace

$2.30

Sonata da chiesa a tre in E minor, No. 2 - III. Adagio

Composer(s)

Arcangelo Corelli�

Artist(s)

The Avison Ensemble

Sonata da chiesa a tre in E minor, No. 2 - III. Adagio

$2.30

Sonata da chiesa a tre in E minor, No. 2 - IV. Allegro

Composer(s)

Arcangelo Corelli�

Artist(s)

The Avison Ensemble

Sonata da chiesa a tre in E minor, No. 2 - IV. Allegro

$2.30

Sonata da chiesa a tre in A Major, No. 3 - I. Grave

Composer(s)

Arcangelo Corelli�

Artist(s)

The Avison Ensemble

Sonata da chiesa a tre in A Major, No. 3 - I. Grave

$2.30

Sonata da chiesa a tre in A Major, No. 3 - II. Allegro

Composer(s)

Arcangelo Corelli�

Artist(s)

The Avison Ensemble

Sonata da chiesa a tre in A Major, No. 3 - II. Allegro

$2.30

Sonata da chiesa a tre in A Major, No. 3 - III. Adagio

Composer(s)

Arcangelo Corelli�

Artist(s)

The Avison Ensemble

Sonata da chiesa a tre in A Major, No. 3 - III. Adagio

$2.30

Sonata da chiesa a tre in A Major, No. 3 - IV. Allegro

Composer(s)

Arcangelo Corelli�

Artist(s)

The Avison Ensemble

Sonata da chiesa a tre in A Major, No. 3 - IV. Allegro

$2.30

Sonata da chiesa a tre in A minor, No. 4 - I. Vivace (attacca)

Composer(s)

Arcangelo Corelli�

Artist(s)

The Avison Ensemble

Sonata da chiesa a tre in A minor, No. 4 - I. Vivace (attacca)

$2.30

Sonata da chiesa a tre in A minor, No. 4 - II. Adagio

Composer(s)

Arcangelo Corelli�

Artist(s)

The Avison Ensemble

Sonata da chiesa a tre in A minor, No. 4 - II. Adagio

$2.30

Sonata da chiesa a tre in A minor, No. 4 - III. Allegro

Composer(s)

Arcangelo Corelli�

Artist(s)

The Avison Ensemble

Sonata da chiesa a tre in A minor, No. 4 - III. Allegro

$2.30

Sonata da chiesa a tre in A minor, No. 4 - IV. Presto

Composer(s)

Arcangelo Corelli�

Artist(s)

The Avison Ensemble

Sonata da chiesa a tre in A minor, No. 4 - IV. Presto

$2.30

Sonata da chiesa a tre in A minor, No. 4 - V. Allegro

Composer(s)

Arcangelo Corelli�

Artist(s)

The Avison Ensemble

Sonata da chiesa a tre in A minor, No. 4 - V. Allegro

$2.30

Sonata da chiesa a tre in B-flat minor, No. 5 - I. Grave

Composer(s)

Arcangelo Corelli�

Artist(s)

The Avison Ensemble

Sonata da chiesa a tre in B-flat minor, No. 5 - I. Grave

$2.30

Sonata da chiesa a tre in B-flat minor, No. 5 - II. Allegro

Composer(s)

Arcangelo Corelli�

Artist(s)

The Avison Ensemble

Sonata da chiesa a tre in B-flat minor, No. 5 - II. Allegro

$2.30

Sonata da chiesa a tre in B-flat minor, No. 5 - III. Adagio - Allegro

Composer(s)

Arcangelo Corelli�

Artist(s)

The Avison Ensemble

Sonata da chiesa a tre in B-flat minor, No. 5 - III. Adagio - Allegro

$2.30

Sonata da chiesa a tre in B-flat minor, No. 5 - IV. Allegro

Composer(s)

Arcangelo Corelli�

Artist(s)

The Avison Ensemble

Sonata da chiesa a tre in B-flat minor, No. 5 - IV. Allegro

$2.30

Sonata da chiesa a tre in B minor, No. 6 - I. Grave

Composer(s)

Arcangelo Corelli�

Artist(s)

The Avison Ensemble

Sonata da chiesa a tre in B minor, No. 6 - I. Grave

$2.30

Sonata da chiesa a tre in B minor, No. 6 - II. Largo

Composer(s)

Arcangelo Corelli�

Artist(s)

The Avison Ensemble

Sonata da chiesa a tre in B minor, No. 6 - II. Largo

$2.30

Sonata da chiesa a tre in B minor, No. 6 - III. Adagio

Composer(s)

Arcangelo Corelli�

Artist(s)

The Avison Ensemble

Sonata da chiesa a tre in B minor, No. 6 - III. Adagio

$2.30

Sonata da chiesa a tre in B minor, No. 6 - IV. Allegro

Composer(s)

Arcangelo Corelli�

Artist(s)

The Avison Ensemble

Sonata da chiesa a tre in B minor, No. 6 - IV. Allegro

$2.30

Sonata da chiesa a tre in C Major, No. 7 - I. Allegro

Composer(s)

Arcangelo Corelli�

Artist(s)

The Avison Ensemble

Sonata da chiesa a tre in C Major, No. 7 - I. Allegro

$2.30

Sonata da chiesa a tre in C Major, No. 7 - II. Grave

Composer(s)

Arcangelo Corelli�

Artist(s)

The Avison Ensemble

Sonata da chiesa a tre in C Major, No. 7 - II. Grave

$2.30

Sonata da chiesa a tre in C Major, No. 7 - III. Allegro

Composer(s)

Arcangelo Corelli�

Artist(s)

The Avison Ensemble

Sonata da chiesa a tre in C Major, No. 7 - III. Allegro

$2.30

Sonata da chiesa a tre in C minor, No. 8 - I. Grave

Composer(s)

Arcangelo Corelli�

Artist(s)

The Avison Ensemble

Sonata da chiesa a tre in C minor, No. 8 - I. Grave

$2.30

Sonata da chiesa a tre in C minor, No. 8 - II. Allegro

Composer(s)

Arcangelo Corelli�

Artist(s)

The Avison Ensemble

Sonata da chiesa a tre in C minor, No. 8 - II. Allegro

$2.30

Sonata da chiesa a tre in C minor, No. 8 - III. Largo

Composer(s)

Arcangelo Corelli�

Artist(s)

The Avison Ensemble

Sonata da chiesa a tre in C minor, No. 8 - III. Largo

$2.30

Sonata da chiesa a tre in C minor, No. 8 - IV. Vivace

Composer(s)

Arcangelo Corelli�

Artist(s)

The Avison Ensemble

Sonata da chiesa a tre in C minor, No. 8 - IV. Vivace

$2.30

Sonata da chiesa a tre in G Major, No. 9 - I. Allegro

Composer(s)

Arcangelo Corelli�

Artist(s)

The Avison Ensemble

Sonata da chiesa a tre in G Major, No. 9 - I. Allegro

$2.30

Sonata da chiesa a tre in G Major, No. 9 - II. Allegro

Composer(s)

Arcangelo Corelli�

Artist(s)

The Avison Ensemble

Sonata da chiesa a tre in G Major, No. 9 - II. Allegro

$2.30

Sonata da chiesa a tre in G Major, No. 9 - III. Adagio

Composer(s)

Arcangelo Corelli�

Artist(s)

The Avison Ensemble

Sonata da chiesa a tre in G Major, No. 9 - III. Adagio

$2.30

Sonata da chiesa a tre in G Major, No. 9 - IV. Allegro - Adagio

Composer(s)

Arcangelo Corelli�

Artist(s)

The Avison Ensemble

Sonata da chiesa a tre in G Major, No. 9 - IV. Allegro - Adagio

$2.30

Sonata da chiesa a tre in G minor, No. 10 - I. Grave

Composer(s)

Arcangelo Corelli�

Artist(s)

The Avison Ensemble

Sonata da chiesa a tre in G minor, No. 10 - I. Grave

$2.30

Sonata da chiesa a tre in G minor, No. 10 - II. Allegro (attacca)

Composer(s)

Arcangelo Corelli�

Artist(s)

The Avison Ensemble

Sonata da chiesa a tre in G minor, No. 10 - II. Allegro (attacca)

$2.30

Sonata da chiesa a tre in G minor, No. 10 - III. Allegro

Composer(s)

Arcangelo Corelli�

Artist(s)

The Avison Ensemble

Sonata da chiesa a tre in G minor, No. 10 - III. Allegro

$2.30

Sonata da chiesa a tre in G minor, No. 10 - IV. Adagio

Composer(s)

Arcangelo Corelli�

Artist(s)

The Avison Ensemble

Sonata da chiesa a tre in G minor, No. 10 - IV. Adagio

$2.30

Sonata da chiesa a tre in G minor, No. 10 - V. Allegro

Composer(s)

Arcangelo Corelli�

Artist(s)

The Avison Ensemble

Sonata da chiesa a tre in G minor, No. 10 - V. Allegro

$2.30

Sonata da chiesa a tre in D minor, No. 11 - I. Grave

Composer(s)

Arcangelo Corelli�

Artist(s)

The Avison Ensemble

Sonata da chiesa a tre in D minor, No. 11 - I. Grave

$2.30

Sonata da chiesa a tre in D minor, No. 11 - II. Allegro

Composer(s)

Arcangelo Corelli�

Artist(s)

The Avison Ensemble

Sonata da chiesa a tre in D minor, No. 11 - II. Allegro

$2.30

Sonata da chiesa a tre in D minor, No. 11 - III. Adagio

Composer(s)

Arcangelo Corelli�

Artist(s)

The Avison Ensemble

Sonata da chiesa a tre in D minor, No. 11 - III. Adagio

$2.30

Sonata da chiesa a tre in D minor, No. 11 - IV. Allegro

Composer(s)

Arcangelo Corelli�

Artist(s)

The Avison Ensemble

Sonata da chiesa a tre in D minor, No. 11 - IV. Allegro

$2.30

Sonata da chiesa a tre in D Major, No. 12 - I. Grave

Composer(s)

Arcangelo Corelli�

Artist(s)

The Avison Ensemble

Sonata da chiesa a tre in D Major, No. 12 - I. Grave

$2.30

Sonata da chiesa a tre in D Major, No. 12 - II. Largo e puntato

Composer(s)

Arcangelo Corelli�

Artist(s)

The Avison Ensemble

Sonata da chiesa a tre in D Major, No. 12 - II. Largo e puntato

$2.30

Sonata da chiesa a tre in D Major, No. 12 - III. Grave

Composer(s)

Arcangelo Corelli�

Artist(s)

The Avison Ensemble

Sonata da chiesa a tre in D Major, No. 12 - III. Grave

$2.30

Sonata da chiesa a tre in D Major, No. 12 - IV. Allegro

Composer(s)

Arcangelo Corelli�

Artist(s)

The Avison Ensemble

Sonata da chiesa a tre in D Major, No. 12 - IV. Allegro

$2.30

Sonata da chiesa a tre in F Major, No. 1 - I. Grave

Composer(s)

Arcangelo Corelli�

Artist(s)

The Avison Ensemble

Sonata da chiesa a tre in F Major, No. 1 - I. Grave

$2.30

Sonata da chiesa a tre in F Major, No. 1 - II. Allegro

Composer(s)

Arcangelo Corelli�

Artist(s)

The Avison Ensemble

Sonata da chiesa a tre in F Major, No. 1 - II. Allegro

$2.30

Sonata da chiesa a tre in F Major, No. 1 - III. Vivace

Composer(s)

Arcangelo Corelli�

Artist(s)

The Avison Ensemble

Sonata da chiesa a tre in F Major, No. 1 - III. Vivace

$2.30

Sonata da chiesa a tre in F Major, No. 1 - IV. Allegro

Composer(s)

Arcangelo Corelli�

Artist(s)

The Avison Ensemble

Sonata da chiesa a tre in F Major, No. 1 - IV. Allegro

$2.30

Sonata da chiesa a tre in D Major, No. 2 - I. Grave

Composer(s)

Arcangelo Corelli�

Artist(s)

The Avison Ensemble

Sonata da chiesa a tre in D Major, No. 2 - I. Grave

$2.30

Sonata da chiesa a tre in D Major, No. 2 - II. Allegro

Composer(s)

Arcangelo Corelli�

Artist(s)

The Avison Ensemble

Sonata da chiesa a tre in D Major, No. 2 - II. Allegro

$2.30

Sonata da chiesa a tre in D Major, No. 2 - III. Adagio

Composer(s)

Arcangelo Corelli�

Artist(s)

The Avison Ensemble

Sonata da chiesa a tre in D Major, No. 2 - III. Adagio

$2.30

Sonata da chiesa a tre in D Major, No. 2 - IV. Allegro

Composer(s)

Arcangelo Corelli�

Artist(s)

The Avison Ensemble

Sonata da chiesa a tre in D Major, No. 2 - IV. Allegro

$2.30

Sonata da chiesa a tre in B-flat Major, No. 3 - I. Grave

Composer(s)

Arcangelo Corelli�

Artist(s)

The Avison Ensemble

Sonata da chiesa a tre in B-flat Major, No. 3 - I. Grave

$2.30

Sonata da chiesa a tre in B-flat Major, No. 3 - II. Vivace

Composer(s)

Arcangelo Corelli�

Artist(s)

The Avison Ensemble

Sonata da chiesa a tre in B-flat Major, No. 3 - II. Vivace

$2.30

Sonata da chiesa a tre in B-flat Major, No. 3 - III. Largo

Composer(s)

Arcangelo Corelli�

Artist(s)

The Avison Ensemble

Sonata da chiesa a tre in B-flat Major, No. 3 - III. Largo

$2.30

Sonata da chiesa a tre in B-flat Major, No. 3 - IV. Allegro

Composer(s)

Arcangelo Corelli�

Artist(s)

The Avison Ensemble

Sonata da chiesa a tre in B-flat Major, No. 3 - IV. Allegro

$2.30

Sonata da chiesa a tre in B minor, No. 4 - I. Largo

Composer(s)

Arcangelo Corelli�

Artist(s)

The Avison Ensemble

Sonata da chiesa a tre in B minor, No. 4 - I. Largo

$2.30

Sonata da chiesa a tre in B minor, No. 4 - II. Vivace

Composer(s)

Arcangelo Corelli�

Artist(s)

The Avison Ensemble

Sonata da chiesa a tre in B minor, No. 4 - II. Vivace

$2.30

Sonata da chiesa a tre in B minor, No. 4 - III. Adagio

Composer(s)

Arcangelo Corelli�

Artist(s)

The Avison Ensemble

Sonata da chiesa a tre in B minor, No. 4 - III. Adagio

$2.30

Sonata da chiesa a tre in B minor, No. 4 - IV. Presto

Composer(s)

Arcangelo Corelli�

Artist(s)

The Avison Ensemble

Sonata da chiesa a tre in B minor, No. 4 - IV. Presto

$2.30

Sonata da chiesa a tre in D minor, No. 5 - I. Grave

Composer(s)

Arcangelo Corelli�

Artist(s)

The Avison Ensemble

Sonata da chiesa a tre in D minor, No. 5 - I. Grave

$2.30

Sonata da chiesa a tre in D minor, No. 5 - II. Allegro

Composer(s)

Arcangelo Corelli�

Artist(s)

The Avison Ensemble

Sonata da chiesa a tre in D minor, No. 5 - II. Allegro

$2.30

Sonata da chiesa a tre in D minor, No. 5 - III. Largo

Composer(s)

Arcangelo Corelli�

Artist(s)

The Avison Ensemble

Sonata da chiesa a tre in D minor, No. 5 - III. Largo

$2.30

Sonata da chiesa a tre in D minor, No. 5 - IV. Allegro

Composer(s)

Arcangelo Corelli�

Artist(s)

The Avison Ensemble

Sonata da chiesa a tre in D minor, No. 5 - IV. Allegro

$2.30

Sonata da chiesa a tre in G Major, No. 6 - I. Vivace

Composer(s)

Arcangelo Corelli�

Artist(s)

The Avison Ensemble

Sonata da chiesa a tre in G Major, No. 6 - I. Vivace

$2.30

Sonata da chiesa a tre in G Major, No. 6 - II. Grave

Composer(s)

Arcangelo Corelli�

Artist(s)

The Avison Ensemble

Sonata da chiesa a tre in G Major, No. 6 - II. Grave

$2.30

Sonata da chiesa a tre in G Major, No. 6 - III. Allegro

Composer(s)

Arcangelo Corelli�

Artist(s)

The Avison Ensemble

Sonata da chiesa a tre in G Major, No. 6 - III. Allegro

$2.30

Sonata da chiesa a tre in G Major, No. 6 - IV. Allegro

Composer(s)

Arcangelo Corelli�

Artist(s)

The Avison Ensemble

Sonata da chiesa a tre in G Major, No. 6 - IV. Allegro

$2.30

Sonata da chiesa a tre in E minor, No. 7 - I. Grave

Composer(s)

Arcangelo Corelli�

Artist(s)

The Avison Ensemble

Sonata da chiesa a tre in E minor, No. 7 - I. Grave

$2.30

Sonata da chiesa a tre in E minor, No. 7 - II. Allegro

Composer(s)

Arcangelo Corelli�

Artist(s)

The Avison Ensemble

Sonata da chiesa a tre in E minor, No. 7 - II. Allegro

$2.30

Sonata da chiesa a tre in E minor, No. 7 - III. Adagio

Composer(s)

Arcangelo Corelli�

Artist(s)

The Avison Ensemble

Sonata da chiesa a tre in E minor, No. 7 - III. Adagio

$2.30

Sonata da chiesa a tre in E minor, No. 7 - IV. Allegro

Composer(s)

Arcangelo Corelli�

Artist(s)

The Avison Ensemble

Sonata da chiesa a tre in E minor, No. 7 - IV. Allegro

$2.30

Sonata da chiesa a tre in C Major, No. 8 - I. Largo

Composer(s)

Arcangelo Corelli�

Artist(s)

The Avison Ensemble

Sonata da chiesa a tre in C Major, No. 8 - I. Largo

$2.30

Sonata da chiesa a tre in C Major, No. 8 - II. Allegro

Composer(s)

Arcangelo Corelli�

Artist(s)

The Avison Ensemble

Sonata da chiesa a tre in C Major, No. 8 - II. Allegro

$2.30

Sonata da chiesa a tre in C Major, No. 8 - III. Largo

Composer(s)

Arcangelo Corelli�

Artist(s)

The Avison Ensemble

Sonata da chiesa a tre in C Major, No. 8 - III. Largo

$2.30

Sonata da chiesa a tre in C Major, No. 8 - IV. Allegro

Composer(s)

Arcangelo Corelli�

Artist(s)

The Avison Ensemble

Sonata da chiesa a tre in C Major, No. 8 - IV. Allegro

$2.30

Sonata da chiesa a tre in F minor, No. 9 - I. Grave

Composer(s)

Arcangelo Corelli�

Artist(s)

The Avison Ensemble

Sonata da chiesa a tre in F minor, No. 9 - I. Grave

$2.30

Sonata da chiesa a tre in F minor, No. 9 - II. Vivace

Composer(s)

Arcangelo Corelli�

Artist(s)

The Avison Ensemble

Sonata da chiesa a tre in F minor, No. 9 - II. Vivace

$2.30

Sonata da chiesa a tre in F minor, No. 9 - III. Largo

Composer(s)

Arcangelo Corelli�

Artist(s)

The Avison Ensemble

Sonata da chiesa a tre in F minor, No. 9 - III. Largo

$2.30

Sonata da chiesa a tre in F minor, No. 9 - IV. Allegro

Composer(s)

Arcangelo Corelli�

Artist(s)

The Avison Ensemble

Sonata da chiesa a tre in F minor, No. 9 - IV. Allegro

$2.30

Sonata da chiesa a tre in A minor, No. 10 - I. Vivace

Composer(s)

Arcangelo Corelli�

Artist(s)

The Avison Ensemble

Sonata da chiesa a tre in A minor, No. 10 - I. Vivace

$2.30

Sonata da chiesa a tre in A minor, No. 10 - II. Allegro

Composer(s)

Arcangelo Corelli�

Artist(s)

The Avison Ensemble

Sonata da chiesa a tre in A minor, No. 10 - II. Allegro

$2.30

Sonata da chiesa a tre in A minor, No. 10 - III. Adagio

Composer(s)

Arcangelo Corelli�

Artist(s)

The Avison Ensemble

Sonata da chiesa a tre in A minor, No. 10 - III. Adagio

$2.30

Sonata da chiesa a tre in A minor, No. 10 - IV. Allegro

Composer(s)

Arcangelo Corelli�

Artist(s)

The Avison Ensemble

Sonata da chiesa a tre in A minor, No. 10 - IV. Allegro

$2.30

Sonata da chiesa a tre in G minor, No. 11 - I. Grave

Composer(s)

Arcangelo Corelli�

Artist(s)

The Avison Ensemble

Sonata da chiesa a tre in G minor, No. 11 - I. Grave

$2.30

Sonata da chiesa a tre in G minor, No. 11 - II. Presto

Composer(s)

Arcangelo Corelli�

Artist(s)

The Avison Ensemble

Sonata da chiesa a tre in G minor, No. 11 - II. Presto

$2.30

Sonata da chiesa a tre in G minor, No. 11 - III. Adagio

Composer(s)

Arcangelo Corelli�

Artist(s)

The Avison Ensemble

Sonata da chiesa a tre in G minor, No. 11 - III. Adagio

$2.30

Sonata da chiesa a tre in G minor, No. 11 - IV. Allegro

Composer(s)

Arcangelo Corelli�

Artist(s)

The Avison Ensemble

Sonata da chiesa a tre in G minor, No. 11 - IV. Allegro

$2.30

Sonata da chiesa a tre in A Major, No. 12 - I. Grave

Composer(s)

Arcangelo Corelli�

Artist(s)

The Avison Ensemble

Sonata da chiesa a tre in A Major, No. 12 - I. Grave

$2.30

Sonata da chiesa a tre in A Major, No. 12 - II. Vivace

Composer(s)

Arcangelo Corelli�

Artist(s)

The Avison Ensemble

Sonata da chiesa a tre in A Major, No. 12 - II. Vivace

$2.30

Sonata da chiesa a tre in A Major, No. 12 - III. Allegro

Composer(s)

Arcangelo Corelli�

Artist(s)

The Avison Ensemble

Sonata da chiesa a tre in A Major, No. 12 - III. Allegro

$2.30

Sonata da chiesa a tre in A Major, No. 12 - IV. Allegro

Composer(s)

Arcangelo Corelli�

Artist(s)

The Avison Ensemble

Sonata da chiesa a tre in A Major, No. 12 - IV. Allegro

$2.30

Sonata da chiesa a tre in A Major, No. 12 - V. Allegro

Composer(s)

Arcangelo Corelli�

Artist(s)

The Avison Ensemble

Sonata da chiesa a tre in A Major, No. 12 - V. Allegro

$2.30
Total running time: 147 minutes.


Album information

Opus 1 & 3: Church Sonatas is the final recording in The Avison Ensemble's welcome undertaking to record Corelli's complete chamber music in celebration of the 300th anniversary of the composer's death.

A fittingly satisfying finale to the series, Corelli's church sonatas are exquisite, highly refined compositions representing a high point of Italian Baroque instrumental music. Corelli's contribution to the history of violin performance was immense. All six of his published collections of instrumental music demonstrate his exceptional skill as a violinist and composer.

The series has been greeted with wide critical acclaim: Opus 2 & 4 was named 'Recording of the Month' by MusicWeb International which also named Opus 6 a 2012 'Recording of the Year', whilst Opus 5 was awarded 4.5 stars by BBC Music Magazine who praised Beznosiuk's "intuitively musical performances."
Related Artists
Reviews