Filters
Corelli: Opus 2 & 4: Chamber Sonatas
Corelli: Opus 2 & 4: Chamber Sonatas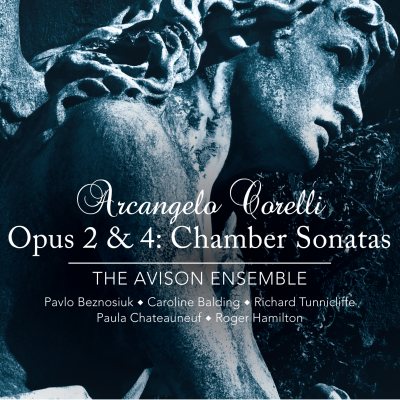 Inlay available for download
Booklet available for download
Sonata da camera in D Major, No. 1 - I. Preludio - Adagio

Composer(s)

Archangelo Corelli

Artist(s)

Pavlo Beznosiuk

The Avison Ensemble

Sonata da camera in D Major, No. 1 - I. Preludio - Adagio

$2.30

Sonata da camera in D Major, No. 1 - II. Allemanda - Allegro

Composer(s)

Archangelo Corelli

Artist(s)

Pavlo Beznosiuk

The Avison Ensemble

Sonata da camera in D Major, No. 1 - II. Allemanda - Allegro

$2.30

Sonata da camera in D Major, No. 1 - III. Corrente - Allegro

Composer(s)

Archangelo Corelli

Artist(s)

Pavlo Beznosiuk

The Avison Ensemble

Sonata da camera in D Major, No. 1 - III. Corrente - Allegro

$2.30

Sonata da camera in D Major, No. 1 - IV. Gavotta - Allegro

Composer(s)

Archangelo Corelli

Artist(s)

Pavlo Beznosiuk

The Avison Ensemble

Sonata da camera in D Major, No. 1 - IV. Gavotta - Allegro

$2.30

Sonata da camera in D minor, No. 2 - I. Allemanda - Adagio

Composer(s)

Archangelo Corelli

Artist(s)

Pavlo Beznosiuk

The Avison Ensemble

Sonata da camera in D minor, No. 2 - I. Allemanda - Adagio

$2.30

Sonata da camera in D minor, No. 2 - II. Corrente - Allegro

Composer(s)

Archangelo Corelli

Artist(s)

Pavlo Beznosiuk

The Avison Ensemble

Sonata da camera in D minor, No. 2 - II. Corrente - Allegro

$2.30

Sonata da camera in D minor, No. 2 - III. Giga - Allegro

Composer(s)

Archangelo Corelli

Artist(s)

Pavlo Beznosiuk

The Avison Ensemble

Sonata da camera in D minor, No. 2 - III. Giga - Allegro

$2.30

Sonata da camera in C Major, No. 3 - I. Preludio - Largo

Composer(s)

Archangelo Corelli

Artist(s)

Pavlo Beznosiuk

The Avison Ensemble

Sonata da camera in C Major, No. 3 - I. Preludio - Largo

$2.30

Sonata da camera in C Major, No. 3 - II. Allemanda - Allergro

Composer(s)

Archangelo Corelli

Artist(s)

Pavlo Beznosiuk

The Avison Ensemble

Sonata da camera in C Major, No. 3 - II. Allemanda - Allergro

$2.30

Sonata da camera in C Major, No. 3: III. Adagio

Composer(s)

Archangelo Corelli

Artist(s)

Pavlo Beznosiuk

The Avison Ensemble

Sonata da camera in C Major, No. 3: III. Adagio

$2.30

Sonata da camera in C Major, No. 3: IV. Allemanda – Presto

Composer(s)

Archangelo Corelli

Artist(s)

Pavlo Beznosiuk

The Avison Ensemble

Sonata da camera in C Major, No. 3: IV. Allemanda – Presto

$2.30

Sonata da camera in E minor, No. 4: I. Preludio – Adagio

Composer(s)

Archangelo Corelli

Artist(s)

Pavlo Beznosiuk

The Avison Ensemble

Sonata da camera in E minor, No. 4: I. Preludio – Adagio

$2.30

Sonata da camera in E minor, No. 4: II. Allemanda – Presto

Composer(s)

Archangelo Corelli

Artist(s)

Pavlo Beznosiuk

The Avison Ensemble

Sonata da camera in E minor, No. 4: II. Allemanda – Presto

$2.30

Sonata da camera in E minor, No. 4: III. Grave – Adagio

Composer(s)

Archangelo Corelli

Artist(s)

Pavlo Beznosiuk

The Avison Ensemble

Sonata da camera in E minor, No. 4: III. Grave – Adagio

$2.30

Sonata da camera in E minor, No. 4: IV. Giga – Allegro

Composer(s)

Archangelo Corelli

Artist(s)

Pavlo Beznosiuk

The Avison Ensemble

Sonata da camera in E minor, No. 4: IV. Giga – Allegro

$2.30

Sonata da camera in B-flat Major, No. 5: I. Preludio - Adagio

Composer(s)

Archangelo Corelli

Artist(s)

Pavlo Beznosiuk

The Avison Ensemble

Sonata da camera in B-flat Major, No. 5: I. Preludio - Adagio

$2.30

Sonata da camera in B-flat Major, No. 5: II. Allemanda – Allegro

Composer(s)

Archangelo Corelli

Artist(s)

Pavlo Beznosiuk

The Avison Ensemble

Sonata da camera in B-flat Major, No. 5: II. Allemanda – Allegro

$2.30

Sonata da camera in B-flat Major, No. 5: III. Sarabanda – Adagio

Composer(s)

Archangelo Corelli

Artist(s)

Pavlo Beznosiuk

The Avison Ensemble

Sonata da camera in B-flat Major, No. 5: III. Sarabanda – Adagio

$2.30

Sonata da camera in B-flat Major, No. 5: IV. Tempo di Gavotta – Allegro

Composer(s)

Archangelo Corelli

Artist(s)

Pavlo Beznosiuk

The Avison Ensemble

Sonata da camera in B-flat Major, No. 5: IV. Tempo di Gavotta – Allegro

$2.30

Sonata da camera in G minor, No. 6: I. Allemanda – Largo

Composer(s)

Archangelo Corelli

Artist(s)

Pavlo Beznosiuk

The Avison Ensemble

Sonata da camera in G minor, No. 6: I. Allemanda – Largo

$2.30

Sonata da camera in G minor, No. 6: II. Corrente – Allegro

Composer(s)

Archangelo Corelli

Artist(s)

Pavlo Beznosiuk

The Avison Ensemble

Sonata da camera in G minor, No. 6: II. Corrente – Allegro

$2.30

Sonata da camera in G minor, No. 6: III. Giga – Allegro

Composer(s)

Archangelo Corelli

Artist(s)

Pavlo Beznosiuk

The Avison Ensemble

Sonata da camera in G minor, No. 6: III. Giga – Allegro

$2.30

Sonata da camera in F Major, No. 7: I. Preludio – Adagio

Composer(s)

Archangelo Corelli

Artist(s)

Pavlo Beznosiuk

The Avison Ensemble

Sonata da camera in F Major, No. 7: I. Preludio – Adagio

$2.30

Sonata da camera in F Major, No. 7: II. Allemanda – Allegro

Composer(s)

Archangelo Corelli

Artist(s)

Pavlo Beznosiuk

The Avison Ensemble

Sonata da camera in F Major, No. 7: II. Allemanda – Allegro

$2.30

Sonata da camera in F Major, No. 7: III. Corrente – Allegro

Composer(s)

Archangelo Corelli

Artist(s)

Pavlo Beznosiuk

The Avison Ensemble

Sonata da camera in F Major, No. 7: III. Corrente – Allegro

$2.30

Sonata da camera in F Major, No. 7: IV. Giga – Allegro

Composer(s)

Archangelo Corelli

Artist(s)

Pavlo Beznosiuk

The Avison Ensemble

Sonata da camera in F Major, No. 7: IV. Giga – Allegro

$2.30

Sonata da camera in B minor, No. 8: I. Preludio – Adagio

Composer(s)

Archangelo Corelli

Artist(s)

Pavlo Beznosiuk

The Avison Ensemble

Sonata da camera in B minor, No. 8: I. Preludio – Adagio

$2.30

Sonata da camera in B minor, No. 8: II Allemanda – Largo

Composer(s)

Archangelo Corelli

Artist(s)

Pavlo Beznosiuk

The Avison Ensemble

Sonata da camera in B minor, No. 8: II Allemanda – Largo

$2.30

Sonata da camera in B minor, No. 8: III. Tempo di Sarabanda – Adagio

Composer(s)

Archangelo Corelli

Artist(s)

Pavlo Beznosiuk

The Avison Ensemble

Sonata da camera in B minor, No. 8: III. Tempo di Sarabanda – Adagio

$2.30

Sonata da camera in B minor, No. 8: IV. Tempo di Gavotta – Allegro

Composer(s)

Archangelo Corelli

Artist(s)

Pavlo Beznosiuk

The Avison Ensemble

Sonata da camera in B minor, No. 8: IV. Tempo di Gavotta – Allegro

$2.30

Sonata da camera in F-sharp minor, No. 9: I. Allemanda – Largo

Composer(s)

Archangelo Corelli

Artist(s)

Pavlo Beznosiuk

The Avison Ensemble

Sonata da camera in F-sharp minor, No. 9: I. Allemanda – Largo

$2.30

Sonata da camera in F-sharp minor, No. 9: II. Tempo di Sarabanda – Largo

Composer(s)

Archangelo Corelli

Artist(s)

Pavlo Beznosiuk

The Avison Ensemble

Sonata da camera in F-sharp minor, No. 9: II. Tempo di Sarabanda – Largo

$2.30

Sonata da camera in F-sharp minor, No. 9: III. Giga - Allegro

Composer(s)

Archangelo Corelli

Artist(s)

Pavlo Beznosiuk

The Avison Ensemble

Sonata da camera in F-sharp minor, No. 9: III. Giga - Allegro

$2.30

Sonata da camera in E Major, No. 10: I. Preludio – Adagio

Composer(s)

Archangelo Corelli

Artist(s)

Pavlo Beznosiuk

The Avison Ensemble

Sonata da camera in E Major, No. 10: I. Preludio – Adagio

$2.30

Sonata da camera in E Major, No. 10: II. Allemanda – Allegro

Composer(s)

Archangelo Corelli

Artist(s)

Pavlo Beznosiuk

The Avison Ensemble

Sonata da camera in E Major, No. 10: II. Allemanda – Allegro

$2.30

Sonata da camera in E Major, No. 10: III. Sarabanda – Largo

Composer(s)

Archangelo Corelli

Artist(s)

Pavlo Beznosiuk

The Avison Ensemble

Sonata da camera in E Major, No. 10: III. Sarabanda – Largo

$2.30

Sonata da camera in E Major, No. 10: IV. Corrente – Allegro

Composer(s)

Archangelo Corelli

Artist(s)

Pavlo Beznosiuk

The Avison Ensemble

Sonata da camera in E Major, No. 10: IV. Corrente – Allegro

$2.30

Sonata da camera in E-flat Major, No. 11: I. Preludio – Adagio

Composer(s)

Archangelo Corelli

Artist(s)

Pavlo Beznosiuk

The Avison Ensemble

Sonata da camera in E-flat Major, No. 11: I. Preludio – Adagio

$2.30

Sonata da camera in E-flat Major, No. 11: II. Allemanda – Presto

Composer(s)

Archangelo Corelli

Artist(s)

Pavlo Beznosiuk

The Avison Ensemble

Sonata da camera in E-flat Major, No. 11: II. Allemanda – Presto

$2.30

Sonata da camera in E-flat Major, No. 11: III. Giga – Allegro

Composer(s)

Archangelo Corelli

Artist(s)

Pavlo Beznosiuk

The Avison Ensemble

Sonata da camera in E-flat Major, No. 11: III. Giga – Allegro

$2.30

Sonata da camera in G Major, No. 12: I. Ciacona – Largo

Composer(s)

Archangelo Corelli

Artist(s)

Pavlo Beznosiuk

The Avison Ensemble

Sonata da camera in G Major, No. 12: I. Ciacona – Largo

$2.30

Sonata in C Major, No. 1: I. Preludio – Largo

Composer(s)

Archangelo Corelli

Artist(s)

Pavlo Beznosiuk

The Avison Ensemble

Sonata in C Major, No. 1: I. Preludio – Largo

$2.30

Sonata in C Major, No. 1: II. Corrente – Allegro

Composer(s)

Archangelo Corelli

Artist(s)

Pavlo Beznosiuk

The Avison Ensemble

Sonata in C Major, No. 1: II. Corrente – Allegro

$2.30

Sonata in C Major, No. 1: III. Adagio

Composer(s)

Archangelo Corelli

Artist(s)

Pavlo Beznosiuk

The Avison Ensemble

Sonata in C Major, No. 1: III. Adagio

$2.30

Sonata in C Major, No. 1: IV. Allemanda - Presto

Composer(s)

Archangelo Corelli

Artist(s)

Pavlo Beznosiuk

The Avison Ensemble

Sonata in C Major, No. 1: IV. Allemanda - Presto

$2.30

Sonata in G minor, No. 2: I. Preludio – Grave

Composer(s)

Archangelo Corelli

Artist(s)

Pavlo Beznosiuk

The Avison Ensemble

Sonata in G minor, No. 2: I. Preludio – Grave

$2.30

Sonata in G minor, No. 2: II. Allemanda – Allegro

Composer(s)

Archangelo Corelli

Artist(s)

Pavlo Beznosiuk

The Avison Ensemble

Sonata in G minor, No. 2: II. Allemanda – Allegro

$2.30

Sonata in G minor, No. 2: III. Grave

Composer(s)

Archangelo Corelli

Artist(s)

Pavlo Beznosiuk

The Avison Ensemble

Sonata in G minor, No. 2: III. Grave

$2.30

Sonata in G minor, No. 2: IV. Corrente - Vivace

Composer(s)

Archangelo Corelli

Artist(s)

Pavlo Beznosiuk

The Avison Ensemble

Sonata in G minor, No. 2: IV. Corrente - Vivace

$2.30

Sonata in A Major, No. 3: I. Preludio – Largo

Composer(s)

Archangelo Corelli

Artist(s)

Pavlo Beznosiuk

The Avison Ensemble

Sonata in A Major, No. 3: I. Preludio – Largo

$2.30

Sonata in A Major, No. 3: II. Corrente – Allegro

Composer(s)

Archangelo Corelli

Artist(s)

Pavlo Beznosiuk

The Avison Ensemble

Sonata in A Major, No. 3: II. Corrente – Allegro

$2.30

Sonata in A Major, No. 3: III. Sarabanda

Composer(s)

Archangelo Corelli

Artist(s)

Pavlo Beznosiuk

The Avison Ensemble

Sonata in A Major, No. 3: III. Sarabanda

$2.30

Sonata in A Major, No. 3: IV. Tempo di Gavotta – Allegro

Composer(s)

Archangelo Corelli

Artist(s)

Pavlo Beznosiuk

The Avison Ensemble

Sonata in A Major, No. 3: IV. Tempo di Gavotta – Allegro

$2.30

Sonata in D Major, No. 4: I. Preludio – Grave

Composer(s)

Archangelo Corelli

Artist(s)

Pavlo Beznosiuk

The Avison Ensemble

Sonata in D Major, No. 4: I. Preludio – Grave

$2.30

Sonata in D Major, No. 4: II. Corrente – Allegro

Composer(s)

Archangelo Corelli

Artist(s)

Pavlo Beznosiuk

The Avison Ensemble

Sonata in D Major, No. 4: II. Corrente – Allegro

$2.30

Sonata in D Major, No. 4: III. Adagio

Composer(s)

Archangelo Corelli

Artist(s)

Pavlo Beznosiuk

The Avison Ensemble

Sonata in D Major, No. 4: III. Adagio

$2.30

Sonata in D Major, No. 4: IV. Giga – Allegro

Composer(s)

Archangelo Corelli

Artist(s)

Pavlo Beznosiuk

The Avison Ensemble

Sonata in D Major, No. 4: IV. Giga – Allegro

$2.30

Sonata in A minor, No. 5: I. Preludio – Adagio

Composer(s)

Archangelo Corelli

Artist(s)

Pavlo Beznosiuk

The Avison Ensemble

Sonata in A minor, No. 5: I. Preludio – Adagio

$2.30

Sonata in A minor, No. 5: II. Allemanda – Allegro

Composer(s)

Archangelo Corelli

Artist(s)

Pavlo Beznosiuk

The Avison Ensemble

Sonata in A minor, No. 5: II. Allemanda – Allegro

$2.30

Sonata in A minor, No. 5: III. Corrente – Vivace

Composer(s)

Archangelo Corelli

Artist(s)

Pavlo Beznosiuk

The Avison Ensemble

Sonata in A minor, No. 5: III. Corrente – Vivace

$2.30

Sonata in A minor, No. 5: IV. Gavotta – Allegro

Composer(s)

Archangelo Corelli

Artist(s)

Pavlo Beznosiuk

The Avison Ensemble

Sonata in A minor, No. 5: IV. Gavotta – Allegro

$2.30

Sonata in E Major, No. 6: I. Preludio – Adagio

Composer(s)

Archangelo Corelli

Artist(s)

Pavlo Beznosiuk

The Avison Ensemble

Sonata in E Major, No. 6: I. Preludio – Adagio

$2.30

Sonata in E Major, No. 6: II. Allemanda – Allegro

Composer(s)

Archangelo Corelli

Artist(s)

Pavlo Beznosiuk

The Avison Ensemble

Sonata in E Major, No. 6: II. Allemanda – Allegro

$2.30

Sonata in E Major, No. 6: III. Giga – Allegro

Composer(s)

Archangelo Corelli

Artist(s)

Pavlo Beznosiuk

The Avison Ensemble

Sonata in E Major, No. 6: III. Giga – Allegro

$2.30

Sonata in F Major, No. 7: I. Preludio – Largo

Composer(s)

Archangelo Corelli

Artist(s)

Pavlo Beznosiuk

The Avison Ensemble

Sonata in F Major, No. 7: I. Preludio – Largo

$2.30

Sonata in F Major, No. 7: II. Corrente – Vivace

Composer(s)

Archangelo Corelli

Artist(s)

Pavlo Beznosiuk

The Avison Ensemble

Sonata in F Major, No. 7: II. Corrente – Vivace

$2.30

Sonata in F Major, No. 7: III. Grave

Composer(s)

Archangelo Corelli

Artist(s)

Pavlo Beznosiuk

The Avison Ensemble

Sonata in F Major, No. 7: III. Grave

$2.30

Sonata in F Major, No. 7: IV. Sarabanda – Vivace

Composer(s)

Archangelo Corelli

Artist(s)

Pavlo Beznosiuk

The Avison Ensemble

Sonata in F Major, No. 7: IV. Sarabanda – Vivace

$2.30

Sonata in F Major, No. 7: V. Giga – Allegro

Composer(s)

Archangelo Corelli

Artist(s)

Pavlo Beznosiuk

The Avison Ensemble

Sonata in F Major, No. 7: V. Giga – Allegro

$2.30

Sonata in D minor, No. 8: I. Preludio – Grave

Composer(s)

Archangelo Corelli

Artist(s)

Pavlo Beznosiuk

The Avison Ensemble

Sonata in D minor, No. 8: I. Preludio – Grave

$2.30

Sonata in D minor, No. 8: II. Allemanda – Allegro

Composer(s)

Archangelo Corelli

Artist(s)

Pavlo Beznosiuk

The Avison Ensemble

Sonata in D minor, No. 8: II. Allemanda – Allegro

$2.30

Sonata in D minor, No. 8: III. Sarabanda – Allegro

Composer(s)

Archangelo Corelli

Artist(s)

Pavlo Beznosiuk

The Avison Ensemble

Sonata in D minor, No. 8: III. Sarabanda – Allegro

$2.30

Sonata in B-flat Major, No. 9: I. Preludio – Largo

Composer(s)

Archangelo Corelli

Artist(s)

Pavlo Beznosiuk

The Avison Ensemble

Sonata in B-flat Major, No. 9: I. Preludio – Largo

$2.30

Sonata in B-flat Major, No. 9: II. Corrente – Allergo

Composer(s)

Archangelo Corelli

Artist(s)

Pavlo Beznosiuk

The Avison Ensemble

Sonata in B-flat Major, No. 9: II. Corrente – Allergo

$2.30

Sonata in B-flat Major, No. 9: III. Grave

Composer(s)

Archangelo Corelli

Artist(s)

Pavlo Beznosiuk

The Avison Ensemble

Sonata in B-flat Major, No. 9: III. Grave

$2.30

Sonata in B-flat Major, No. 9: IV. Tempo di Gavotta – Presto

Composer(s)

Archangelo Corelli

Artist(s)

Pavlo Beznosiuk

The Avison Ensemble

Sonata in B-flat Major, No. 9: IV. Tempo di Gavotta – Presto

$2.30

Sonata in G Major, No. 10: I. Preludio – Adagio

Composer(s)

Archangelo Corelli

Artist(s)

Pavlo Beznosiuk

The Avison Ensemble

Sonata in G Major, No. 10: I. Preludio – Adagio

$2.30

Sonata in G Major, No. 10: II. Grave

Composer(s)

Archangelo Corelli

Artist(s)

Pavlo Beznosiuk

The Avison Ensemble

Sonata in G Major, No. 10: II. Grave

$2.30

Sonata in G Major, No. 10: III. Tempo di Gavotta – Presto

Composer(s)

Archangelo Corelli

Artist(s)

Pavlo Beznosiuk

The Avison Ensemble

Sonata in G Major, No. 10: III. Tempo di Gavotta – Presto

$2.30

Sonata in C minor, No. 11: I. Preludio – Largo

Composer(s)

Archangelo Corelli

Artist(s)

Pavlo Beznosiuk

The Avison Ensemble

Sonata in C minor, No. 11: I. Preludio – Largo

$2.30

Sonata in C minor, No. 11: II. Corrente – Allegro

Composer(s)

Archangelo Corelli

Artist(s)

Pavlo Beznosiuk

The Avison Ensemble

Sonata in C minor, No. 11: II. Corrente – Allegro

$2.30

Sonata in C minor, No. 11: III. Allemanda - Allegro

Composer(s)

Archangelo Corelli

Artist(s)

Pavlo Beznosiuk

The Avison Ensemble

Sonata in C minor, No. 11: III. Allemanda - Allegro

$2.30

Sonata in B minor, No. 12: I. Preludio – Largo

Composer(s)

Archangelo Corelli

Artist(s)

Pavlo Beznosiuk

The Avison Ensemble

Sonata in B minor, No. 12: I. Preludio – Largo

$2.30

Sonata in B minor, No. 12: II. Allemanda – Presto

Composer(s)

Archangelo Corelli

Artist(s)

Pavlo Beznosiuk

The Avison Ensemble

Sonata in B minor, No. 12: II. Allemanda – Presto

$2.30

Sonata in B minor, No. 12: III. Giga – Allegro

Composer(s)

Archangelo Corelli

Artist(s)

Pavlo Beznosiuk

The Avison Ensemble

Sonata in B minor, No. 12: III. Giga – Allegro

$2.30
Total running time: 150 minutes.
Album information

Opus 2 & 4: Chamber Sonatas marks the third recording in a series which will see The Avison Ensemble record Corelli's complete chamber music celebrating the 300th anniversary of the composer's death in 2013.

Popular since their publication, Corelli's two sets of chamber sonatas are a pinnacle of Baroque Italian instrumental music.  They demonstrate a superior level of craftsmanship; they are of the highest quality, exquisitely refined and a good example of perfection in music.

Corelli's contribution to the history of violin performance was immense. All six of his published collections of instrumental music demonstrate his exceptional skill as a violinist and composer, but it was in his chamber sonatas that he first used what was to be known as the 'Corelli clash'.
Related Artists
Reviews