Filters
Corelli: Opus 5: Violin Sonatas
Corelli: Opus 5: Violin Sonatas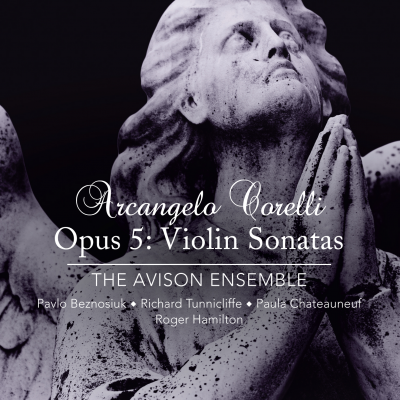 Inlay available for download
Booklet available for download
Sonata in D Major, No. 1- I. Grave - Allegro - Adagio

Composer(s)

Arcangelo Corelli

Artist(s)

Pavlo Beznosiuk

The Avison Ensemble

Sonata in D Major, No. 1- I. Grave - Allegro - Adagio

$2.30

Sonata in D Major, No. 1 - II. Allegro

Composer(s)

Arcangelo Corelli

Artist(s)

Pavlo Beznosiuk

The Avison Ensemble

Sonata in D Major, No. 1 - II. Allegro

$2.30

Sonata in D Major, No. 1 - III. Allegro

Composer(s)

Arcangelo Corelli

Artist(s)

Pavlo Beznosiuk

The Avison Ensemble

Sonata in D Major, No. 1 - III. Allegro

$2.30

Sonata in D Major, No. 1 - IV. Adagio

Composer(s)

Arcangelo Corelli

Artist(s)

Pavlo Beznosiuk

The Avison Ensemble

Sonata in D Major, No. 1 - IV. Adagio

$2.30

Sonata in D Major, No. 1 - V. Allegro

Composer(s)

Arcangelo Corelli

Artist(s)

Pavlo Beznosiuk

The Avison Ensemble

Sonata in D Major, No. 1 - V. Allegro

$2.30

Sonata in B-flat Major, No. 2 - I. Grave

Composer(s)

Arcangelo Corelli

Artist(s)

Pavlo Beznosiuk

The Avison Ensemble

Sonata in B-flat Major, No. 2 - I. Grave

$2.30

Sonata in B-flat Major, No. 2 - II. Allegro

Composer(s)

Arcangelo Corelli

Artist(s)

Pavlo Beznosiuk

The Avison Ensemble

Sonata in B-flat Major, No. 2 - II. Allegro

$2.30

Sonata in B-flat Major, No. 2 - III. Vivace

Composer(s)

Arcangelo Corelli

Artist(s)

Pavlo Beznosiuk

The Avison Ensemble

Sonata in B-flat Major, No. 2 - III. Vivace

$2.30

Sonata in B-flat Major, No. 2 - IV. Adagio

Composer(s)

Arcangelo Corelli

Artist(s)

Pavlo Beznosiuk

The Avison Ensemble

Sonata in B-flat Major, No. 2 - IV. Adagio

$2.30

Sonata in B-flat Major, No. 2 - V. Vivace

Composer(s)

Arcangelo Corelli

Artist(s)

Pavlo Beznosiuk

The Avison Ensemble

Sonata in B-flat Major, No. 2 - V. Vivace

$2.30

Sonata in C Major, No. 3 - I. Adagio

Composer(s)

Arcangelo Corelli

Artist(s)

Pavlo Beznosiuk

The Avison Ensemble

Sonata in C Major, No. 3 - I. Adagio

$2.30

Sonata in C Major, No. 3 - II. Allegro

Composer(s)

Arcangelo Corelli

Artist(s)

Pavlo Beznosiuk

The Avison Ensemble

Sonata in C Major, No. 3 - II. Allegro

$2.30

Sonata in C Major, No. 3 - III. Adagio

Composer(s)

Arcangelo Corelli

Artist(s)

Pavlo Beznosiuk

The Avison Ensemble

Sonata in C Major, No. 3 - III. Adagio

$2.30

Sonata in C Major, No. 3 - IV. Allegro

Composer(s)

Arcangelo Corelli

Artist(s)

Pavlo Beznosiuk

The Avison Ensemble

Sonata in C Major, No. 3 - IV. Allegro

$2.30

Sonata in C Major, No. 3 - V. Allegro

Composer(s)

Arcangelo Corelli

Artist(s)

Pavlo Beznosiuk

The Avison Ensemble

Sonata in C Major, No. 3 - V. Allegro

$2.30

Sonata in F Major, No. 4 - I. Adagio

Composer(s)

Arcangelo Corelli

Artist(s)

Pavlo Beznosiuk

The Avison Ensemble

Sonata in F Major, No. 4 - I. Adagio

$2.30

Sonata in F Major, No. 4 - II. Allegro

Composer(s)

Arcangelo Corelli

Artist(s)

Pavlo Beznosiuk

The Avison Ensemble

Sonata in F Major, No. 4 - II. Allegro

$2.30

Sonata in F Major, No. 4 - III. Vivace

Composer(s)

Arcangelo Corelli

Artist(s)

Pavlo Beznosiuk

The Avison Ensemble

Sonata in F Major, No. 4 - III. Vivace

$2.30

Sonata in F Major, No. 4 - IV. Adagio

Composer(s)

Arcangelo Corelli

Artist(s)

Pavlo Beznosiuk

The Avison Ensemble

Sonata in F Major, No. 4 - IV. Adagio

$2.30

Sonata in F Major, No. 4 - V. Allegro

Composer(s)

Arcangelo Corelli

Artist(s)

Pavlo Beznosiuk

The Avison Ensemble

Sonata in F Major, No. 4 - V. Allegro

$2.30

Sonata in G minor, No. 5 - I. Adagio

Composer(s)

Arcangelo Corelli

Artist(s)

Pavlo Beznosiuk

The Avison Ensemble

Sonata in G minor, No. 5 - I. Adagio

$2.30

Sonata in G minor, No. 5 - II. Vivace

Composer(s)

Arcangelo Corelli

Artist(s)

Pavlo Beznosiuk

The Avison Ensemble

Sonata in G minor, No. 5 - II. Vivace

$2.30

Sonata in G minor, No. 5 - III. Adagio

Composer(s)

Arcangelo Corelli

Artist(s)

Pavlo Beznosiuk

The Avison Ensemble

Sonata in G minor, No. 5 - III. Adagio

$2.30

Sonata in G minor, No. 5 - IV. Vivace

Composer(s)

Arcangelo Corelli

Artist(s)

Pavlo Beznosiuk

The Avison Ensemble

Sonata in G minor, No. 5 - IV. Vivace

$2.30

Sonata in G minor, No. 5 - V. Giga - Allegro

Composer(s)

Arcangelo Corelli

Artist(s)

Pavlo Beznosiuk

The Avison Ensemble

Sonata in G minor, No. 5 - V. Giga - Allegro

$2.30

Sonata in A Major, No. 6 - I. Grave

Composer(s)

Arcangelo Corelli

Artist(s)

Pavlo Beznosiuk

The Avison Ensemble

Sonata in A Major, No. 6 - I. Grave

$2.30

Sonata in A Major, No. 6 - II. Allegro

Composer(s)

Arcangelo Corelli

Artist(s)

The Avison Ensemble

Sonata in A Major, No. 6 - II. Allegro

$2.30

Sonata in A Major, No. 6 - III. Allegro

Composer(s)

Arcangelo Corelli

Artist(s)

Pavlo Beznosiuk

The Avison Ensemble

Sonata in A Major, No. 6 - III. Allegro

$2.30

Sonata in A Major, No. 6 - IV. Adagio

Composer(s)

Arcangelo Corelli

Artist(s)

Pavlo Beznosiuk

The Avison Ensemble

Sonata in A Major, No. 6 - IV. Adagio

$2.30

Sonata in A Major, No. 6 - V. Allegro

Composer(s)

Arcangelo Corelli

Artist(s)

Pavlo Beznosiuk

The Avison Ensemble

Sonata in A Major, No. 6 - V. Allegro

$2.30

Sonata in D minor, No. 7 - I. Preludio - Vivace

Composer(s)

Arcangelo Corelli

Artist(s)

Pavlo Beznosiuk

The Avison Ensemble

Sonata in D minor, No. 7 - I. Preludio - Vivace

$2.30

Sonata in D minor, No. 7 - II. Corrente - Allegro

Composer(s)

Arcangelo Corelli

Artist(s)

Pavlo Beznosiuk

The Avison Ensemble

Sonata in D minor, No. 7 - II. Corrente - Allegro

$2.30

Sonata in D minor, No. 7 - III. Sarabanda - Largo

Composer(s)

Arcangelo Corelli

Artist(s)

Pavlo Beznosiuk

The Avison Ensemble

Sonata in D minor, No. 7 - III. Sarabanda - Largo

$2.30

Sonata in D minor, No. 7 - IV. Giga - Allegro

Composer(s)

Arcangelo Corelli

Artist(s)

Pavlo Beznosiuk

The Avison Ensemble

Sonata in D minor, No. 7 - IV. Giga - Allegro

$2.30

Sonata in E minor, No. 8 - I. Preludio - Largo

Composer(s)

Arcangelo Corelli

Artist(s)

The Avison Ensemble

Sonata in E minor, No. 8 - I. Preludio - Largo

$2.30

Sonata in E minor, No. 8 - II. Allemanda - Allegro

Composer(s)

Arcangelo Corelli

Artist(s)

Pavlo Beznosiuk

The Avison Ensemble

Sonata in E minor, No. 8 - II. Allemanda - Allegro

$2.30

Sonata in E minor, No. 8 - III. Sarabanda - Largo

Composer(s)

Arcangelo Corelli

Artist(s)

Pavlo Beznosiuk

The Avison Ensemble

Sonata in E minor, No. 8 - III. Sarabanda - Largo

$2.30

Sonata in E minor, No. 8 - IV. Giga - Allegro

Composer(s)

Arcangelo Corelli

Artist(s)

Pavlo Beznosiuk

The Avison Ensemble

Sonata in E minor, No. 8 - IV. Giga - Allegro

$2.30

Sonata in A Major, No. 9 - I. Preludio - Largo

Composer(s)

Arcangelo Corelli

Artist(s)

Pavlo Beznosiuk

The Avison Ensemble

Sonata in A Major, No. 9 - I. Preludio - Largo

$2.30

Sonata in A Major, No. 9 - II. Giga - Allegro

Composer(s)

Arcangelo Corelli

Artist(s)

Pavlo Beznosiuk

The Avison Ensemble

Sonata in A Major, No. 9 - II. Giga - Allegro

$2.30

Sonata in A Major, No. 9 - III. Adagio

Composer(s)

Arcangelo Corelli

Artist(s)

Pavlo Beznosiuk

The Avison Ensemble

Sonata in A Major, No. 9 - III. Adagio

$2.30

Sonata in A Major, No. 9 - IV. Tempo di Gavotta - Allegro

Composer(s)

Arcangelo Corelli

Artist(s)

Pavlo Beznosiuk

The Avison Ensemble

Sonata in A Major, No. 9 - IV. Tempo di Gavotta - Allegro

$2.30

Sonata in F Major, No. 10 - I. Preludio - Adagio

Composer(s)

Arcangelo Corelli

Artist(s)

Pavlo Beznosiuk

The Avison Ensemble

Sonata in F Major, No. 10 - I. Preludio - Adagio

$2.30

Sonata in F Major, No. 10 - II. Allemanda - Allegro

Composer(s)

Arcangelo Corelli

Artist(s)

Pavlo Beznosiuk

The Avison Ensemble

Sonata in F Major, No. 10 - II. Allemanda - Allegro

$2.30

Sonata in F Major, No. 10 - III. Sarabanda - Largo

Composer(s)

Arcangelo Corelli

Artist(s)

Pavlo Beznosiuk

The Avison Ensemble

Sonata in F Major, No. 10 - III. Sarabanda - Largo

$2.30

Sonata in F Major, No. 10 - IV. Gavotta

Composer(s)

Arcangelo Corelli

Artist(s)

Pavlo Beznosiuk

The Avison Ensemble

Sonata in F Major, No. 10 - IV. Gavotta

$3.40

Sonata in F Major, No. 10 - V. Allegro

Composer(s)

Arcangelo Corelli

Artist(s)

Pavlo Beznosiuk

The Avison Ensemble

Sonata in F Major, No. 10 - V. Allegro

$2.30

Sonata in E Major, No. 11 - I. Preludio - Adagio

Composer(s)

Arcangelo Corelli

Artist(s)

Pavlo Beznosiuk

The Avison Ensemble

Sonata in E Major, No. 11 - I. Preludio - Adagio

$2.30

Sonata in E Major, No. 11 - II. Allegro

Composer(s)

Arcangelo Corelli

Artist(s)

Pavlo Beznosiuk

The Avison Ensemble

Sonata in E Major, No. 11 - II. Allegro

$2.30

Sonata in E Major, No. 11 - III. Adagio

Composer(s)

Arcangelo Corelli

Artist(s)

Pavlo Beznosiuk

The Avison Ensemble

Sonata in E Major, No. 11 - III. Adagio

$2.30

Sonata in E Major, No. 11 - IV. Vivace

Composer(s)

Arcangelo Corelli

Artist(s)

Pavlo Beznosiuk

The Avison Ensemble

Sonata in E Major, No. 11 - IV. Vivace

$2.30

Sonata in E Major, No. 11 - V. Gavotta - Allegro

Composer(s)

Arcangelo Corelli

Artist(s)

Pavlo Beznosiuk

The Avison Ensemble

Sonata in E Major, No. 11 - V. Gavotta - Allegro

$2.30

Sonata in D minor, No. 12, 'Folia' - I. Adagio

Composer(s)

Arcangelo Corelli

Artist(s)

Pavlo Beznosiuk

The Avison Ensemble

Sonata in D minor, No. 12, 'Folia' - I. Adagio

$2.30

Sonata in D minor, No. 12, 'Folia' - II. Allegro

Composer(s)

Arcangelo Corelli

Artist(s)

Pavlo Beznosiuk

The Avison Ensemble

Sonata in D minor, No. 12, 'Folia' - II. Allegro

$2.30

Sonata in D minor, No. 12, 'Folia' - III. Adagio

Composer(s)

Arcangelo Corelli

Artist(s)

Pavlo Beznosiuk

The Avison Ensemble

Sonata in D minor, No. 12, 'Folia' - III. Adagio

$2.30

Sonata in D minor, No. 12, 'Folia' - IV. Vivace

Composer(s)

Arcangelo Corelli

Artist(s)

Pavlo Beznosiuk

The Avison Ensemble

Sonata in D minor, No. 12, 'Folia' - IV. Vivace

$2.30

Sonata in D minor, No. 12, 'Folia' - V. Andante

Composer(s)

Arcangelo Corelli

Artist(s)

Pavlo Beznosiuk

The Avison Ensemble

Sonata in D minor, No. 12, 'Folia' - V. Andante

$2.30

Sonata in D minor, No. 12, 'Folia' - VI. Adagio

Composer(s)

Arcangelo Corelli

Artist(s)

Pavlo Beznosiuk

The Avison Ensemble

Sonata in D minor, No. 12, 'Folia' - VI. Adagio

$2.30

Sonata in D minor, No. 12, 'Folia' - VII. Allegro

Composer(s)

Arcangelo Corelli

Artist(s)

Pavlo Beznosiuk

The Avison Ensemble

Sonata in D minor, No. 12, 'Folia' - VII. Allegro

$2.30
Total running time: 132 minutes.

Album information

This marks the second in a series of four Corelli recordings celebrating the 300th anniversary of the composer's death by The Avison Ensemble.

The Op. 5 collection consists of eleven sonatas; the twelfth, and most popular, work is a series of twenty-three variations on the 'Follia' of which Corelli was especially proud.  All twelve pieces contain a variety of difficult violin techniques and director Pavlo Beznosiuk takes centre stage; his polished playing thrilling in its virtuosity.

Corelli's contribution to the history of violin performance was immense. All six of his published collections of instrumental music demonstrate his exceptional skill as a violinist and composer, but it was in his Op. 5 Sonatas that Corelli had the most significant impact on violin technique.

The Avison Ensemble comprises some of Europe's leading Baroque musicians, including artists from The Hague, Germany, France, Austria and London, with international soloists from all over the globe.  The Ensemble has attracted great critical acclaim since its formation in 1985.
Related Artists
Reviews