Filters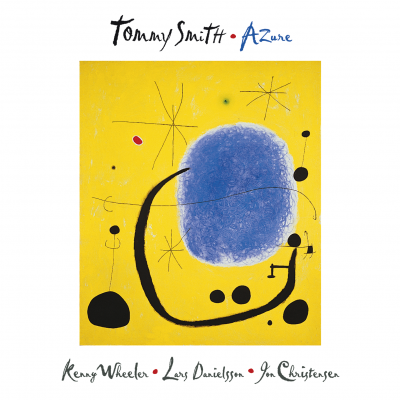 The Gold Of The Azure

Composer(s)

Tommy Smith /Jon Christensen

Artist(s)

Kenny Wheeler - Trumpet, Flugel Horn, Lars Danielsson - Bass, Jon Christensen - Drums

The Gold Of The Azure

$1.80

Escape Ladder

Composer(s)

Tommy Smith /Jon Christensen

Artist(s)

Kenny Wheeler - Trumpet, Flugel Horn, Lars Danielsson - Bass, Jon Christensen - Drums

Escape Ladder

$2.70

Siesta

Composer(s)

Tommy Smith /Jon Christensen

Artist(s)

Kenny Wheeler - Trumpet, Flugel Horn, Lars Danielsson - Bass, Jon Christensen - Drums

Siesta

$2.70

The Smile Of Flamboyant Wings

Composer(s)

Tommy Smith /Jon Christensen

Artist(s)

Kenny Wheeler - Trumpet, Flugel Horn, Lars Danielsson - Bass, Jon Christensen - Drums

The Smile Of Flamboyant Wings

$1.80

Vowel Song

Composer(s)

Tommy Smith /Jon Christensen

Artist(s)

Kenny Wheeler - Trumpet, Flugel Horn, Lars Danielsson - Bass, Jon Christensen - Drums

Vowel Song

$1.80

Constellation: The Morning Star

Composer(s)

Tommy Smith /Jon Christensen

Artist(s)

Kenny Wheeler - Trumpet, Flugel Horn, Lars Danielsson - Bass, Jon Christensen - Drums

Constellation: The Morning Star

$1.80

The Calculation

Composer(s)

Tommy Smith /Jon Christensen

Artist(s)

Kenny Wheeler - Trumpet, Flugel Horn, Lars Danielsson - Bass, Jon Christensen - Drums

The Calculation

$1.80

Dancer

Composer(s)

Tommy Smith /Jon Christensen

Artist(s)

Kenny Wheeler - Trumpet, Flugel Horn, Lars Danielsson - Bass, Jon Christensen - Drums

Dancer

$1.80

Dialogue Of The Insects

Composer(s)

Tommy Smith /Jon Christensen

Artist(s)

Kenny Wheeler - Trumpet, Flugel Horn, Lars Danielsson - Bass, Jon Christensen - Drums

Dialogue Of The Insects

$1.80

Blue I, II, III

Composer(s)

Tommy Smith /Jon Christensen

Artist(s)

Kenny Wheeler - Trumpet, Flugel Horn, Lars Danielsson - Bass, Jon Christensen - Drums

Blue I, II, III

$1.80
Total running time: 53 minutes.
Album information

Joan Miro-inspired material composed by Tommy Smith and Jon Christensen.

Azure, Tommy Smith's fourth recording for Linn, both underlines and expands the commitment to a freshly conceived diversity of characterful composition and high quality improvisation already evident in the well-received Reminiscence, Misty Morning and No Time and Beasts of Scotland. Ranging from the courageous starkness (and variety) of the trio arrangements of Reminiscence to the richly atmospheric textures and harmonies of the sextet settings in Misty Morning and Beasts of Scotland, these recordings supplied ample evidence of Smith's burgeoning maturity as both player and composer.

Recorded with Kenny Wheeler, Lars Danielsson and Jon Christensen, three of today's finest musicians, and inspired by the work of one of this century's greatest Surrealists and creative spirits - the Catalan painter, graphic artist and sculptor Joan Miro (1893-1983) - Azure offers further compelling evidence of Smith's growing distinctiveness. From the opening, driving ostinato bars of the title track, where Danielsson's lovely rounded sound and rhythmic suppleness are immediately evident, to the brief, coda-like meditation that is Blue, the recording projects an intense yet subtly diversified rhythmic vitality. The music is no less distinguished by its distinctly poetic quality. Featuring a range of beautifully weighted contributions from all participants, Azure shapes song and space, mode and mood, tonality and time in ways which make it Smith's most remarkable - and rewarding - recording to date. Miro would have loved it.
Related Artists
Reviews