Filters
Mahler: Lieder eines fahrenden Gesellen (arr. Schoenberg)
Mahler: Lieder eines fahrenden Gesellen (arr. Schoenberg)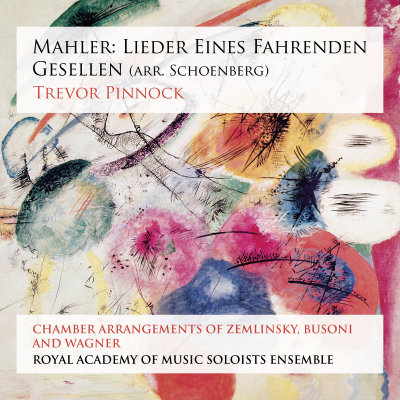 Inlay available for download
Booklet available for download
Lieder eines fahrenden Gesellen - I. Wenn mein Schatz Hochzeit macht

Composer(s)

Gustav Mahler

Artist(s)

Trevor Pinnock

Gareth Brynmor John

Royal Academy of Music Soloists Ensemble

Lieder eines fahrenden Gesellen - I. Wenn mein Schatz Hochzeit macht

$2.40

Lieder eines fahrenden Gesellen - II. Ging heut'Morgen uber's Feld

Composer(s)

Gustav Mahler

Artist(s)

Trevor Pinnock

Gareth Brynmor John

Royal Academy of Music Soloists Ensemble

Lieder eines fahrenden Gesellen - II. Ging heut'Morgen uber's Feld

$2.40

Lieder eines fahrenden Gesellen - III. Ich hab' ein gluhend Messer

Composer(s)

Gustav Mahler

Artist(s)

Trevor Pinnock

Gareth Brynmor John

Royal Academy of Music Soloists Ensemble

Lieder eines fahrenden Gesellen - III. Ich hab' ein gluhend Messer

$2.40

Lieder eines fahrenden Gesellen - IV. Die zwei blauen Augen von meinem Schatz

Composer(s)

Gustav Mahler

Artist(s)

Trevor Pinnock

Gareth Brynmor John

Royal Academy of Music Soloists Ensemble

Lieder eines fahrenden Gesellen - IV. Die zwei blauen Augen von meinem Schatz

$4.80

Berceuse elegiaque, Op. 42

Composer(s)

Ferruccio Busoni

Artist(s)

Trevor Pinnock

Royal Academy of Music Soloists Ensemble

Berceuse elegiaque, Op. 42

$4.80

Sechs Gesange, Op. 13 - I. Die drei Schwestern

Composer(s)

Alexander von Zemlinksy

Artist(s)

Trevor Pinnock

Katie Bray

Royal Academy of Music Soloists Ensemble

Sechs Gesange, Op. 13 - I. Die drei Schwestern

$2.40

Sechs Gesange, Op. 13 - II. Die Madchen mit den verbundenen Augen

Composer(s)

Alexander von Zemlinksy

Artist(s)

Trevor Pinnock

Katie Bray

Royal Academy of Music Soloists Ensemble

Sechs Gesange, Op. 13 - II. Die Madchen mit den verbundenen Augen

$2.40

Sechs Gesange, Op. 13 - III. Lied der Jungfrau

Composer(s)

Alexander von Zemlinksy

Artist(s)

Trevor Pinnock

Katie Bray

Royal Academy of Music Soloists Ensemble

Sechs Gesange, Op. 13 - III. Lied der Jungfrau

$2.40

Sechs Gesange, Op. 13 - IV. Als ihr Geliebter schied

Composer(s)

Alexander von Zemlinksy

Artist(s)

Trevor Pinnock

Katie Bray

Royal Academy of Music Soloists Ensemble

Sechs Gesange, Op. 13 - IV. Als ihr Geliebter schied

$2.40

Sechs Gesange, Op. 13 - V. Und kehrt er einst heim

Composer(s)

Alexander von Zemlinksy

Artist(s)

Trevor Pinnock

Katie Bray

Royal Academy of Music Soloists Ensemble

Sechs Gesange, Op. 13 - V. Und kehrt er einst heim

$2.40

Sechs Gesange, Op. 13 - VI. Sie kam zum Schloss gegangen

Composer(s)

Alexander von Zemlinksy

Artist(s)

Trevor Pinnock

Katie Bray

Royal Academy of Music Soloists Ensemble

Sechs Gesange, Op. 13 - VI. Sie kam zum Schloss gegangen

$2.40

Siegfried Idyll, WWV. 103

Composer(s)

Richard Wagner

Artist(s)

Trevor Pinnock

Royal Academy of Music Soloists Ensemble

Siegfried Idyll, WWV. 103

$9.60
Total running time: 61 minutes.
Album information

Historical performance pioneer Trevor Pinnock conducts the Royal Academy of Music Soloists Ensemble in revealing chamber arrangements from Mahler to Zemlinksy. Featuring soloists Katie Bray (soprano) and Gareth Brynmor John (baritone).

Mahler: Lieder eines fahrenden Gesellen (arr. Schoenberg) is the third in the series which sees Trevor and the Academy perform and record works which are retrospectively reigniting Schoenberg's vision of performing chamber reductions of symphonic repertoire. 

The works in this recording transport us to a period of vast musical change: in Mahler we hear nostalgia welded with modernism; with Wagner, we hear the sunset of Romanticism; with Zemlinsky we hear the seeds of fin-de-siècle Vienna; and in all, the extremities of emotion distilled into non-symphonic forces. Arnold Schoenberg's own arrangement of Mahler's intensely personal song cycle is followed by Erwin Stein's arrangement of Busoni's landmark composition Berceuse élégiaque.

Specially commissioned for this chamber series is Christopher Austin's arrangement of Zemlinsky's evocative Sechs Gesänge, which enjoys its premiere recording here. Closing the disc is Wagner's infamous Siegfried Idyll.

The arrangements for chamber forces serve to illuminate the original scores; the clarity achieved in these performances expose revealing new insights.
Related Artists
Reviews