Filters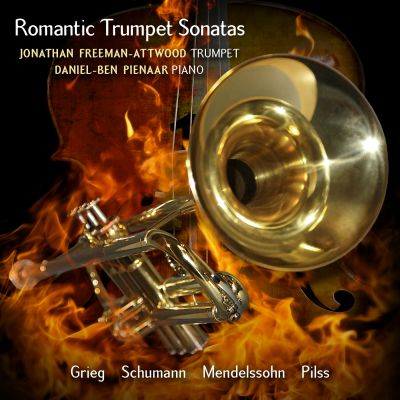 Inlay available for download
Booklet available for download
Holberg Suite, Op. 40 - Praeludium

Artist(s)

Jonathan Freeman-Attwood (trumpet) Daniel Pienaar (piano)

Holberg Suite, Op. 40 - Praeludium

$2.30

Holberg Suite, Op. 40 - Sarabande

Artist(s)

Jonathan Freeman-Attwood (trumpet) Daniel Pienaar (piano)

Holberg Suite, Op. 40 - Sarabande

$2.30

Holberg Suite, Op. 40 - Gavotte

Artist(s)

Jonathan Freeman-Attwood (trumpet) Daniel Pienaar (piano)

Holberg Suite, Op. 40 - Gavotte

$2.30

Holberg Suite, Op. 40 - Air

Artist(s)

Jonathan Freeman-Attwood (trumpet) Daniel Pienaar (piano)

Holberg Suite, Op. 40 - Air

$2.30

Holberg Suite, Op. 40 - Rigaudon

Artist(s)

Jonathan Freeman-Attwood (trumpet) Daniel Pienaar (piano)

Holberg Suite, Op. 40 - Rigaudon

$2.30

Sonata No. 1 in A minor, Op. 105 - Mit leidenschaftlichem Ausdruck

Composer(s)

Robert Schumann

Artist(s)

Jonathan Freeman-Attwood (trumpet) Daniel Pienaar (piano)

Sonata No. 1 in A minor, Op. 105 - Mit leidenschaftlichem Ausdruck

$2.30

Sonata No. 1 in A minor, Op. 105 - Allegretto

Composer(s)

Robert Schumann

Artist(s)

Jonathan Freeman-Attwood (trumpet) Daniel Pienaar (piano)

Sonata No. 1 in A minor, Op. 105 - Allegretto

$2.30

Sonata No. 1 in A minor, Op. 105 - Lebhaft

Composer(s)

Robert Schumann

Artist(s)

Jonathan Freeman-Attwood (trumpet) Daniel Pienaar (piano)

Sonata No. 1 in A minor, Op. 105 - Lebhaft

$2.30

Sonata No. 2 in D Major, Op. 58 - Allegro assai vivace

Composer(s)

Felix Mendelssohn-Bartholdy

Artist(s)

Jonathan Freeman-Attwood (trumpet) Daniel Pienaar (piano)

Sonata No. 2 in D Major, Op. 58 - Allegro assai vivace

$3.40

Sonata No. 2 in D Major, Op. 58 - Allegretto scherzando

Composer(s)

Felix Mendelssohn-Bartholdy

Artist(s)

Jonathan Freeman-Attwood (trumpet) Daniel Pienaar (piano)

Sonata No. 2 in D Major, Op. 58 - Allegretto scherzando

$2.30

Sonata No. 2 in D Major, Op. 58 - Adagio

Composer(s)

Felix Mendelssohn-Bartholdy

Artist(s)

Jonathan Freeman-Attwood (trumpet) Daniel Pienaar (piano)

Sonata No. 2 in D Major, Op. 58 - Adagio

$2.30

Sonata No. 2 in D Major, Op. 58 - Molto allegro e vivace

Composer(s)

Felix Mendelssohn-Bartholdy

Artist(s)

Jonathan Freeman-Attwood (trumpet) Daniel Pienaar (piano)

Sonata No. 2 in D Major, Op. 58 - Molto allegro e vivace

$2.30

Sonata for Trumpet and Piano - Allegro appassionato

Artist(s)

Jonathan Freeman-Attwood (trumpet) Daniel Pienaar (piano)

Sonata for Trumpet and Piano - Allegro appassionato

$2.30

Sonata for Trumpet and Piano - Adagio, molto cantabile

Artist(s)

Jonathan Freeman-Attwood (trumpet) Daniel Pienaar (piano)

Sonata for Trumpet and Piano - Adagio, molto cantabile

$2.30

Sonata for Trumpet and Piano - Allegro agitato

Artist(s)

Jonathan Freeman-Attwood (trumpet) Daniel Pienaar (piano)

Sonata for Trumpet and Piano - Allegro agitato

$2.30
Total running time: 69 minutes.
Album information

In this third release of music for trumpet, Attwood and Daniel-Ben Pienaar merge the past's music with today's instruments to create innovative and inspiring re-workings of classic 19th and 20th century sonatas.

Jonathan Freeman-Attwood and Daniel-Ben Pienaar have collaborated again to experiment and see what happens when enthusiastic artists decide to re-work classic sonatas of the 19th and 20th century. 

Throughout this project, Attwood and Pienaar have been observent of the period and compositional style of the original four works and have embraced the defining characteristics of each composition. 

As a result, these re-workings are exciting, extremely refreshing and shine a bit brighter in these creative, evolutionary interpretations.
Related Artists
Reviews